The most common forms of giving to the Archives are monetary and artifact donations. Monetary donations can be made at anytime, while artifact donations are reviewed in order to make sure items fit our collections policy (outlined below). Thank you for supporting Lambton County Archives!
Monetary Donations
Thank you for your interest in supporting Lambton County Archives. Community support through donations helps to ensure we are able to continue to offer quality programming and services throughout the year. We appreciate donations in any amount.
How to make a donation
Make a donation online using your credit card (minimum $5.00). We can also process credit cards in person and over the phone by calling 519-834-2840. Cash or cheque donations can be made in person at the museum or mailed to:
Lambton County Archives
787 Broadway St, Box 3100
Wyoming, ON
N0N 1T0
Monetary donations of $20.00 and more are eligible for a tax receipt. If you donate by credit card, the receipt will be emailed to you; if you donate by cash or cheque, the museum will mail you a hard copy of your receipt.
Planned giving
There are several ways you can include the Archives in your planned giving intentions:
Make a gift in your will; this might include money, publicly traded stocks or mutual funds
Name Lambton County Archives as a beneficiary in a retirement plan or life insurance policy.
Leave a lasting and meaningful legacy by making a planned gift to Lambton County Archives. Your generosity allows future generations to enjoy and be inspired by our collection.
How to make a planned gift
We are happy to discuss your estate plans. However, we encourage you to consult with your personal financial and legal advisors before including the museum in your will.
---
Artifact Donations
We welcome members of the local community and beyond to donate Lambton family histories or related items to be added to the Lambton County Archives' collection.
We accept donations that help us to tell the stories of the people and places in Lambton County. Historical significance and condition are important criteria.
Examples of Donations Include;
Meeting minutes
Photographs
Business stationary
Newspapers
Compiled histories
Brochures, pamphlets, leaflets
Event posters
Postcards
Ledgers
And more.
Records and documents must be useful to the Archives' research, display, and educational activities.
For more information or to make an appointment to discuss a potential donation, please contact our Archives team.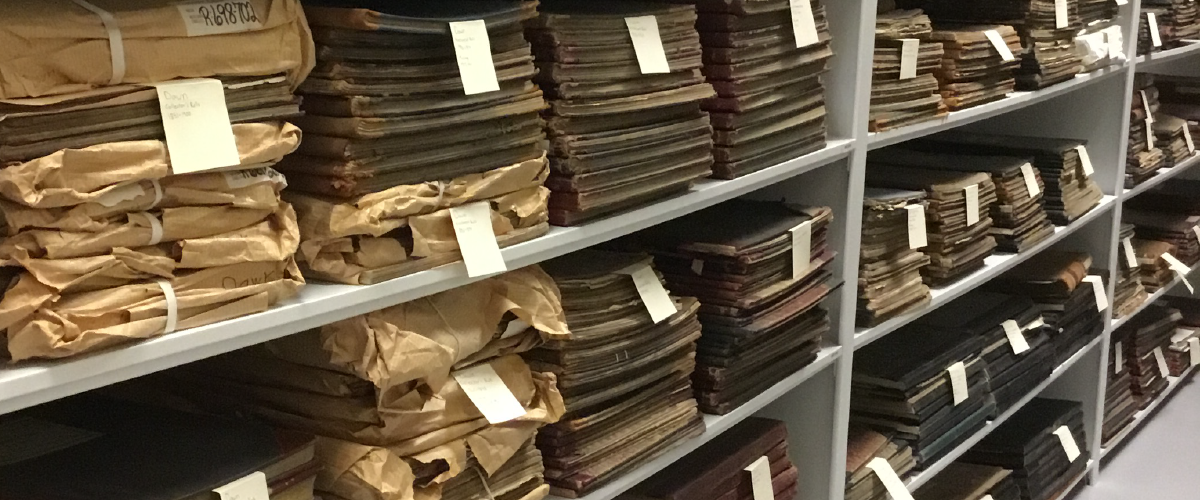 Books from our over sized book collection in the vault.
Participate in Ongoing Projects
Participate in research projects by donating stories and archival materials!