Tires and Wires (Transportation and Communication)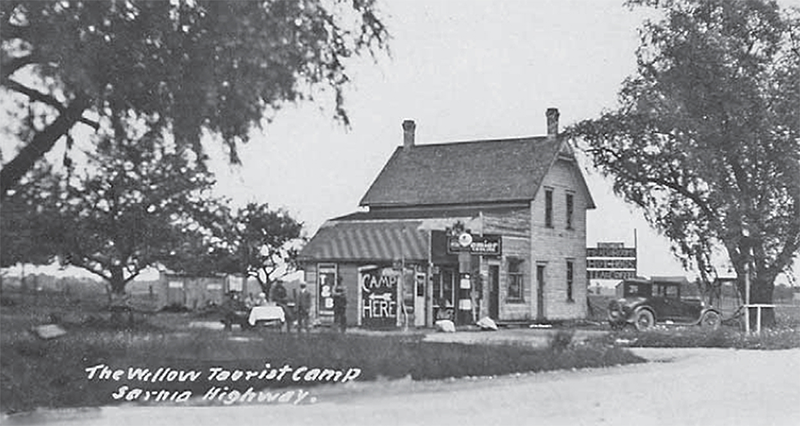 Willow Tourist Camp: The Wauns were pioneers in the tourist industry in Lambton County. Courtesy D Aitken.
by Lewis E. McGregor
Early Roads
When Twp. was surveyed in 1832, there were no roads, just two trails. The first trail from Lobo to Lake Huron was blazed by Asa Townsend in 1821 through what is now Arkona and Forest. It is Townsend Line, the dividing line between and Bosanquet Twp. The Egremont Rd. came as far as the edge of Adelaide Twp. and was to be built to Errol. The section between Adelaide and Errol was built by the early pioneers of and Plympton Twp. in 1832 and 1833. The early settlers felled the trees to make a road. The trees were laid to secure a firm bed through lower swampy areas and were used to build bridges over the streams.
After their "construction," the roads were very poor and seldom could be used by vehicles as the roadway was covered with the rotting stumps of the large trees that were cleared. Other than the Egremont Rd. there were no roads. There were just trails cut through the bush. Eventually gravel was hauled by each farmer and spread on the right-of-ways. Ditches were dug to provide drainage. This improved travel somewhat but roads still remained impassable for long periods of time, depending upon the season.
It wasn't until the twentieth century that roads were really improved. Until about 1940, all roads in the township were
maintained by the property owners who were obliged to haul gravel to keep up the section of road in front of their property under a system called "statute labour." At this time each farmer was required to haul a certain number of loads for the roads. If they didn't haul their share, the township hired someone to do it and they would be billed against their taxes. The gravel was hauled on wagons with two-by-fours in the bottom. To unload, the two-by-fours were turned a quarter turn to allow the gravel to run onto the road. Vaughn Mathews recalled hauling gravel from the Burns Pit as a boy of 14.
Photo Gallery: Warwick Ch 21 Gallery 1 will appear here on the public site.
The first accommodations for travellers were hotels. The first one was built by William Burwell in Village in 1834. Often, however, settlers took travellers into their homes whenever they ventured past. It was a rural tradition that residents never locked their front doors as often travellers would arrive at all hours of the night.
Several hamlets — Watford (originally known as Brown's Corners), Arkona (Eastman's Corners),Wisbeach,Kingscourt, Birnam, Forest and Saunders' Corners (Gardner's Clearing) — developed in Twp. All of these settlements had stores, churches, schools and blacksmiths, and most had a post office. Since early travel was by foot and later by horseback, the blacksmith was a very valuable tradesman in all these communities.From here many other industries soon followed: cheese factories, tanners, carriage builders, basket factories, carpet factories, cabinet manufacturers and machinery manufacturers.
The largest creek crossing Twp. is Bear Creek. At the eastern limits of Village a wooden bridge was built over it some time before 1900 to allow for better travel. A stagecoach line had been established very early. In the 1840s Charles Janes was a stagecoach driver between London and Errol. Stagecoaches brought passengers, freight and mail. Wisbeach, at the eastern boundary of Twp., and Village became important rest stops for horses and stage stops on the long journey from London to Errol and eventually (1846) to Sarnia.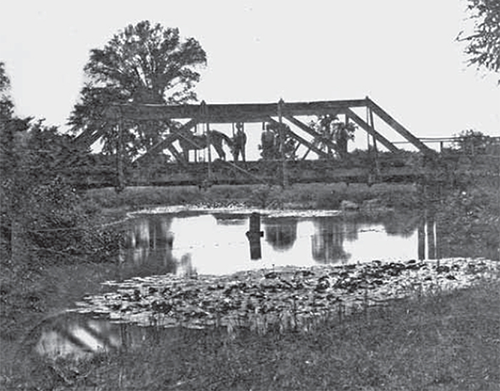 Wooden bridge over Bear Creek, Warwick Village. Courtesy O Pembleton.
New Road Names and Their History
(See map at beginning of book)
The following explanations are in historical documents at the Lambton County buildings in Wyoming, Ont. Corrections of original errors and clarifications of descriptions are indicated in square brackets.
The Egremont Rd. was used by surveyor Peter Carroll to number all sideroads, lots and concessions north and south of it.The new road names came into effect in January 1995 and replaced the original numbered sideroads and concessions. East-west roads are now known as Lines, north-south roads as Roads, except for the Egremont Rd., whose name has historic significance. This was part of a countrywide program to make 911 emergency services more readily available. The Twp. committee that chose the names (Florence Adams, John Boere, Orville Clark, Wilbert Dunlop, Peter Ferwerda, Franklin Fuller, Brad Goodhill, Gerald Herbert, Douglas Hollingsworth, Verne Kernohan, Donald McCormick, Steve Morris, Margaret Redmond, Donald Ross, Jeanne Smale and John T. Smith) decided as much as possible not to use family names.
Once Hwy 402 from Sarnia to London was constructed through Twp., it restricted access to many of the sideroads.
North-South Roads
Arkona Road:
Arkona is an incorporated village located in Lots 3 to 8 [of Bosanquet Twp., south to the /Bosanquet boundary] to the south boundary of Bosanquet Twp., and Lots 23 to 26 as far [south] as Con. 6, Township of . First settled in 1833, it became a municipality in 1876. Arkona Rd. is also known as Hwy 7 south of Arkona. Formely it was 24 Sideroad.
Bethel Road:
Located between Lots 15 and 16 north of Hwy 402, this sideroad is named after a Methodist/United Church once located on 15 Sideroad.
Bethesda Road:
Located between Lots 9 and 10 south of Hwy 402, this sideroad is also named after a Methodist/United Church formerly on 9 Sideroad.
Donnelly Road:
This road, south of Hwy 402, was named in remembrance of a closed post office in Twp. [Editor's note: In 2008 there are no records of a post office at Donelly's Corner]. It was formely 27 Sideroad.
Elarton Road:
A small hamlet grew up around the Elarton Salt Works on Lot 5, Con. 3 Twp. It was formerly 6 Sideroad.
First School Road:
This roads derives its name from the fact that the first school in was built on it, on the southwest corner of Lot 13, Con. 1 NER. It is also because the first central school built in Lambton County was located on Lot 12, Con. 1 SER. It was formerly 12 Sideroad.
Forest Road:
This was named for the town of Forest, an incorporated town at the junction of Bosanquet, and Plympton Townships. When the Grand Trunk Railway came through in 1859 the name of Forest was conferred on the station by railroad authorities, because it was situated in dense bush. It was formerly known as the Plympton- Townline. The part north of Hwy 402 is still Hwy 21.
Kingscourt Road:
This road, south of London Line, is named after the post office from 1884 to 1913 at Lot 8, Con. 5 SER. It was formerly 6 Sideroad.
Nauvoo Road:
Called Hwy 7 (in 2008 County Rd. 79), the Nauvoo from Alvinston to Watford traditionally described the trek of Mormon converts in the vicinity of Gardner's Mill to Nauvoo, Illinois. [It was also called 18 Sideroad].
Power Road:
Power Road is located between Lots 21 and 22 south of Hwy 402. It received its name because of the Ontario Hydro power line which extends along its length. Formerly it was 21 Sideroad.
Quaker Road:
Quaker Road, located between Lots 21 and 22 north of Hwy 402, received its name because of the Quaker Meeting House which stood at the north end of the road. It was formerly 21 Sideroad.
Salt Road:
Salt Road, located between Lots 6 and 7, north of London Line and south of Hwy 402, reminds us of the salt produced at the Elarton Salt Works. It was formerly 6 Sideroad.
Sexton Road:
This road originates from the last syllables of Middlesex and Lambton. It is the townline between Twp. in Lambton County and Adelaide Twp. in Middlesex County.
Short Road:
Located between Lots 21 and 22 north of Churchill Line, it was named because of its length. [It reaches from Churchill Line north to the Canadian National Railway]. It was formerly 21 Sideroad.
Underpass Road:
Located between Lots 15 and 16 south of Hwy 402, it was so named because the road passes through a tunnel under the railway tracks. It was formerly 15 Sideroad.
Village Road:
Village had one of the first post offices in Lambton County, from 1837 to 1969. It was formerly 9 Sideroad, and is so named north of Hwy 402.
Wisbeach Road:
This road was named for the post office which was located in the store on Hwy 7 on Lot 28, Con. 1 SER. The post office was operated from 1854 to 1913. It was formerly 27 Sideroad.
East-West Lines
Birnam Line:
This road is named for the post office formerly located on Lot 18, Con. 5 NER from 1874 until 1915. It was known as the 4th Concession NER.
Brickyard Line:
Brickyard Line is located between Con. 2 and 3 NER. It was named for the Auld, Janes and McCormick brickyards. It was known as the 2nd Concession NER.
Chalk Line:
Formerly known as the Blind Line, it is located between Con. 3 and 4 NER on the west side of Twp. It was named Chalk Line for one of the families of Lord Egremont's English Settlement who lived on the Blind Line.
Churchill Line:
This road is an extension of Churchill St. west of Modeland Rd., Sarnia and Churchill Rd. east of Modeland. These both received their name after World War II, in honour of British Prime Minister Winston Churchill. It was formerly the 6th Concession SER, the townline between Twp. and Brooke Twp.
Confederation Line:
This road has been called Confederation St. in the city of Sarnia for over 100 years. It was changed to Confederation Line east of Modeland to harmonize with the naming conventions in the rest of the county. It was formerly the 4th Concession SER.
Egremont Road:
The Egremont Road was named for George O'Brien Wyndham, the third Earl of Egremont. In 1834 Sir John Colborne confirmed the new line from Lobo to Lake Huron would be called the Egremont.
Hickory Creek Line:
This road is named after the creek that flows from the north of Twp. to Lake Huron at Hilsboro Beach. It was called the 6th Concession NER.
London Line:
This road has been called the London Line since 1845 when the road was completed between Sarnia and London. Its eastern end is Village, its western end Sarnia. It was formerly known as Hwy 7.
Tamarack Line:
This is another Blind Line, located along Lots 19 and 21 to between Con. 5 and 6 NER near Arkona. It was named after a tamarack swamp located along the road.
Townsend Line:
This is the townline between and Bosanquet Twp., named for Asa Townsend, who surveyed a trail from Hickory Corners in Lobo Twp., Middlesex County northwest as far as Lake Huron.
Zion Line:
Located between Con. 2 and 3 SER the road [known as the 2nd Concession] was named after a former Methodist/United Church located along the road.1
Railroads
Village, Wisbeach and Arkona all had hopes of the Great Western Railway going through their area, but instead it went to the south through Watford. Land was purchased for the right-of-way from the southern limit of the properties on Con. 5 SER, south of Confederation Line. The railroad was first proposed in 1834 but was not built until 1858 between London and Sarnia, through Watford, improving travel and freight delivery. In 1882 the Great Western was sold to the Grand Trunk Railway, which was amalgamated into Canadian National Railways in 1923.
The first Watford railway station, built in 1858, burned before it was completely built. The replacement building burned in 1863 when the station agent placed a box of hot ashes on the platform. He was immediately dismissed from his job. Over the years other railway stations were built in Watford, but in 2008 there is none, as Watford is no longer a stop on the route of the Canadian National Railway.
Photo Gallery: Warwick Ch 21 Gallery 2 will appear here on the public site.
An 1865 survey of Watford shows two bridges over the railway, one at Main St. (Nauvoo Rd.) and one at McGregor St., as well as a level crossing at John St. In 1875 the McGregor St. bridge was torn down. There was also a wooden railway bridge over Brown's Creek east of Watford until 1875, when it was replaced by an iron structure 300 feet long. The massive stone buttresses of this bridge remain in 2008.
In 1979 there was a need to raise the Nauvoo Rd. bridge to accommodate the higher rail cars passing through. The old bridge was removed and the
approach on both sides was moved back to allow for a more gentle incline.
In an 1880 Watford Guide-News article it was reported that Watford is "one of the most important stations between Sarnia and London." In an article that Jack Rogers wrote, probably in the late 1990s, he notes that the railway brought life to Watford in 1858, but in 1882 it depleted the population as well, causing an exodus to the west after the new railroad line was built as far as Winnipeg. The population has not recovered in numbers in the time since then.
One of the worst train wrecks in Lambton County took place just west of Watford, near Wanstead in Plympton Twp., on December 27, 1902, when the Pacific Express #5 crashed into an east-bound freight. It is believed that the Watford station agent overlooked giving proper orders to the Chicago-bound passenger train. H. P. Lawrence of Watford was one of the 28 people killed that night.
With the coming of trains, stagecoaches still delivered passengers and mail in most areas not served by the rail line. It was also necessary to have teamsters deliver to and from the train line. Draymen such as Fred Restorick and Mark Moore, as well as livery stable owners, did a big business transporting travellers and the trunks of commercial salesmen to their destinations, and looking after the horses. These were good businesses until the advent of the automobile.
Mail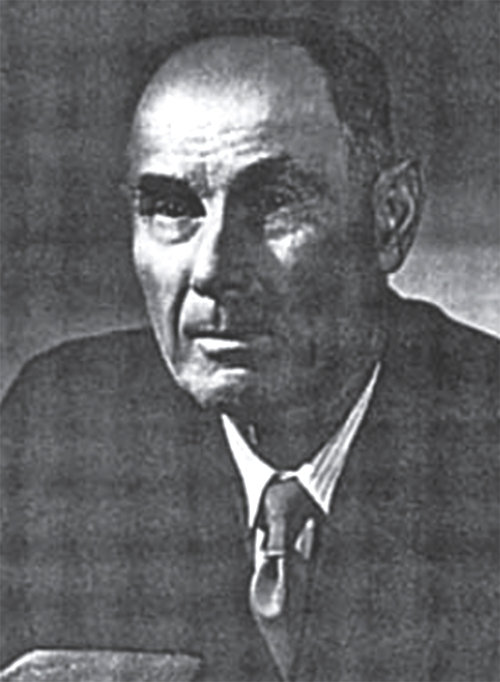 Mervin Black, 1913: Mervin Black was the first mailman out of Forest, on Rural Route 4. Courtesy M Huctwith family.
Mail delivery closely followed the building of roadways and the construction of railway lines. Mail delivery was always very primitive in early Upper Canada due to the lack of real addresses other than "John Smith, Township" or "For Patrick O'Shea, who left Cork, Ireland, for Canada."2
Mail was delivered to the outlying post offices by stagecoach and horseback. With the coming of the railway to Watford and later to Forest, these places became the centres for mail distribution. Initially, because of its central location, would have been a major communication centre in the township, but this diminished in the late 1850s with the railways passing through Watford and Forest.
Before the arrival of the train, mail delivery to "back" townships such as could have taken more than a week to reach its destination. This delay in mail service, which was under control of the British Government, led to criticism from the general population. Letters would take up to two weeks, even when they were from major centres such as Toronto or Montreal.3
A Judge Pringle left an account of the main developments of mail delivery:
When the mails were carried by stage-coach the bags were in charge of the driver, and were usually put under his seat or on the top of the stage. When a post office was being approached the driver blew his horn lustily to warn the postmaster. On getting to the door he tumbled the mailbag or bags off the stage and dragged them into the office, where the postmaster opened and emptied them, selected the matter addressed to his office, and put the rest, with the mail he had to dispatch from his office, into the bags and delivered them to the driver to be replaced on the stage.
The changing of the mail sometimes took twenty minutes or more. If the post office was at a place where the horses were changed or the passengers took a meal the delay was not irksome, but otherwise it was by no means pleasant to be detained at the post office door in the severe cold of a winter's night, the heat of a midsummer day, or possibly in a storm of rain or snow. In those days, however, post offices were few and far between and the detentions were not many.4
With the coming of the railways, mail sorting was done by a mail sorter onboard the train, which sped up mail delivery considerably. With the arrival of the railway, the role of the post offices in the centres such as Village was greatly diminished. The Canadian postage stamp made its debut in 1851, but before that time letters were often paid for in advance to the post master before delivery or in some occasions collected from the recipient when it was delivered.5
Material for letter-writing was scarce, and the price of a letter increased proportionately to the number of pages, so often letters were written on a large sheet of paper, horizontally then vertically or diagonally on the same page. This made the letter very difficult to read. With the first settlement of Upper Canada, it could take several months or even years to send a letter overseas and get an answer. With the advent of steamships and companies such as the Cunard Steamship Line, the delivery time of mail from Liverpool to Halifax was reduced to less than two weeks. Often overseas mail was sent via New York as the time of delivery was almost half. With the advent of the Grand Trunk Railway, the speed of mail delivery increased as did the cost. The result was the demise of the mail delivered by stagecoach or special mail couriers.6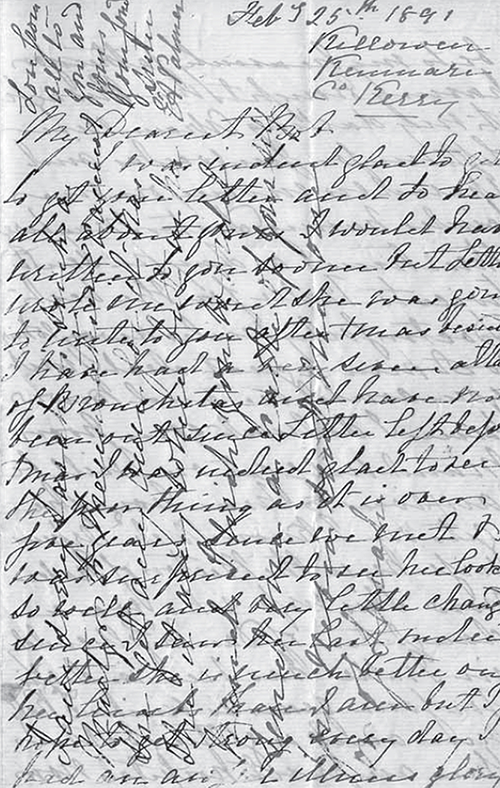 Letter from Ireland, 1891: This letter was written in both directions, in order to save on the cost of postage and paper. Courtesy G Herbert family.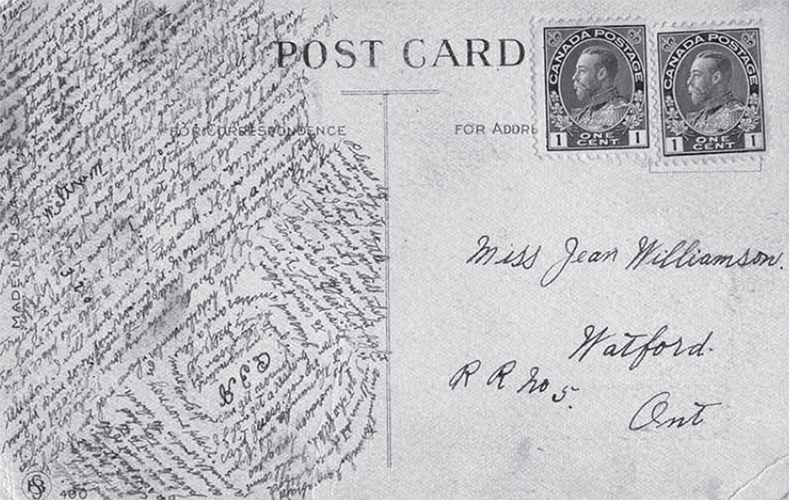 Circle postcard, c. 1920: Th is card was written by Russell Duncan to his fiancée. Courtesy H Van den Heuvel.
In 1851 the postal service became a Canadian government (Colony of Canada) service, leading to improvement of service and an increase in the number of post offices across Canada West. In 1867, postal service became a federal responsibility for the whole country. Rural mail delivery was introduced in 1908 and air mail service began in Canada on June 24, 1918.7
The first post office in the area was opened at Village on February 6, 1837, five years after the township was surveyed. It operated until March 14, 1969. The Wisbeach post office opened February 1, 1854, and closed December 30, 1913. The Watford post office opened September 1, 1854, and is still open. Arkona's post office opened August 1, 1857, and continues as a stamp store in 2008. Birnam opened September 1, 1874, and closed November 30, 1915. Kingscourt opened September 1, 1884, and closed on Sept 30, 1913. Even with these post offices, people walked for miles to a post office, which often was located in the postmaster's house.
Highways
Highway development did not really occur until the advent of the automobile, when the population began to depend upon rail and cartage companies for the distribution of goods from railway centres. With the dependence on transportation for a number of the services required by the developing rural economy, good roads became an essential item and could no longer be totally dependent upon individual farmers to be wholly responsible for the maintenance of their roadways. By the end of World War I automobiles became a common feature of transportation and forced , along with the rest of Ontario, to improve its road system.
One of the first things which had to be done before major road improvements could be made was the building of bridges to go over the creeks, streams and lowlands which dotted Twp. The first bridge on the Egremont Rd. at Village was a wooden structure. It is not known when it was first built, but it was repaired in 1899. In 1903 a new bridge was built. The Watford Guide-Advocate reported that "spiles are being driven and timbers put in place." The contractor was Mr. Nichol of Parkhill. The next bridge was built in 1913, a steel structure with trussed steel arches on the sides. The contractor was Petrolia Bridge Works.
Photo Gallery: Warwick Ch 21 Gallery 3 will appear here on the public site.
On February 26, 1920, the Egremont Rd. became Hwy 7. By 1927 Hwy 7 was paved from Reece's Corners east to 21 Sideroad of . In 1931 the present bridge in Village was constructed. The contractor was Canada Paving Co. of Windsor. It became a concrete structure, with an arch design. During construction a crane broke through the concrete floor of the old bridge and some of the work crew ended up in the creek.
The following poem was written by Stanley Jones, superintendent on the job, about this incident.
Stumbling Stones
Two boys, who never learned to swim,
Were working on this bridge with vim,
When concrete that was poor gave warning,
Then through the bridge the crane came yawning.
They looked around and saw the boom,
The way it swung 'most spelled their doom.
Horatius ne'er could do their trick,
He could swim a river quick.
Then these two, who could not dive,
Felt a great urge, they had to live.
Straight from each end of our little boat
These two boys plunged into the moat.
Oh! how we watched, with bated breath
For what they did may have meant their death.
Straight sixty feet before one arose
And crawled on the bank, in dire repose.
We turned from him, when we saw him safe,
And looked for the other, and had to laugh.
When he jumped off of the little scow
He meant to go somewhere, but didn't know how.
He no sooner dived, and made some spray
Than a gol darned Pile got in his way.
He couldn't go forward, didn't want to go down;
If he kept like that, he would surely drown;
So he made up his mind it must be up
It was near quitting time, and he wanted to sup.
He had lots of speed as he came to the top
When he got to the surface, he did not stop
Straight up that pile, in a terrible rush;
Then sat on the top, his face in a flush.
We measured that pile, when things quieted down,
And I feel that his name should be of renown.
For full thirty feet up that pile he came,
And that's how he entered the Hall of Fame,
The boys helped him down, then he started to sob
Co's the fool boss asked, why he left the job.
In 1983 the bridge and highway were resurfaced and in 2004 further repairs were made to the bridge.
With bridge improvements came paved highways. Hwy 21 south of Forest, first known as the -Plympton Townline and now known as Forest Rd., was reconstructed from a gravel road in 1937 and 1938. The culverts were built by Benjamin Dann of Village in 1937. Carroll Goodhand worked for Ben Dann. He pumped the water for mixing concrete from the creek with a cistern pump. Ben Dann had also built the culverts on Hwy 7 from London Road West United Church (the "Red Church") in Sarnia to Arkona in 1922.
The same year the road bed was made ready. The farmers in the surrounding area supplied the manpower and horse teams. The gravel was drawn 25 miles a day by 30 teams from Coopers Pit, the Birnam Pit and the Burns Pit. The ditches were shaped by team and dump scraper. The dirt was dumped on the road bed and spread with horse drawn graders. Vaughn Mathews, a life-long resident of Con. 2 NER, Twp. recalled that he and Roger Shepherd cut the ditches from Forest to Hwy 7 with teams of horses and dump scrapers.
The concrete paving was done in 1938. Trucks dumped their loads into the front of the mixer. Cement was added and mixed, then extruded out the back into forms and leveled with a vibrating bar attached to the rear of the mixer. Every few feet a small break was left, and later tar poured into the cavity, to allow for expansion.
In the process of building and improving roads, and with the advent of more technology, the reshaping of roadways became the norm. Work became more mechanized and less labour-intensive with trucks, power shovels, bulldozers and graders. Hills and valleys which frequently caused major difficulties in travel were reduced over time or removed, making the roadway relatively level compared to its early construction. The hill at the end of Con. 12, Plympton Twp. (now Douglas Line) where it meets Forest Line was lowered several feet to form a gradual grade as it is today. If you look to the east shoulder you can see how much it was lowered. Some roadways were paved with concrete, others with asphalt, and even others with tar and stone.
Hwy 21 was always bad for drifting in the winter. In earlier years before the large equipment of today, there were times where stretches of this road would be down to one lane. While the road was under construction in 1937, Gerry Boyne got too far to one side just south of Douglas Line, causing his car to end up on its roof in the middle of the road. It was necessary to drag the car back down the road in order to get enough room to set it back on its wheels. With a fresh fill of oil he was back on his way. Cars in those days were tough! It was a 1928 Chevrolet Coupe.
On another occasion, the Department of Highways brought a huge blower from the north to clear the road. This machine had a break down and was brought to McGregor Motor Sales repair shop. This was the only shop in the area large enough to accommodate a machine this size. When it arrived it was like a big block of ice. Everybody grabbed their coats and one man was kept busy stoking the furnace. These episodes happened more than once. A Greyhound bus, loaded with skiers from the United States, had run out of diesel fuel and was frozen up. It arrived on a chain. After getting it thawed, Bill Flater came and fueled it up and McGregor Motors finally got them on the road again.
During an interview for this project, Ron Sewell reminisced about working on Hwy 21 for a Windsor company, Keystone Construction. He remembered the great big cement mixers and the trucks that came with the gravel. He said,
You see, all the culverts that were put under that road were all put under by hand. All those things that were dug across the road were all dug by hand because they had no machines at that time that did that sort of thing and it was all hand done. I remember working and digging a culvert that was going to be 12 ft. wide. And you'd have four or five guys all in a line digging and throwing the dirt out.
Ron remembered that the pay was 35 cents an hour for a ten hour day, more than he had been paid for working at the Elarton Salt Works. He also explained how he obtained his job:
To get a job on that road I remember going to Petrolia … Fairbanks – they had made their money in the oil there. Well, he was Member of Parliament, I forget what his first name was, but I went over there one time in my old Model T Ford to see him to see if I could get a job on the highway. He told me to go to the Reeve at Village at that time or Township.8
In the 1950s Hwy 21 was covered with about one foot of sand from Northville, then paved with asphalt. The gully from just north of Morris St. to just south of George St. on the south end of Forest was filled in to where it is in 2008. Prior to that the road followed the grade and there was a culvert at the creek. If you look at the gully on either side, you can realize the depth of the first road bed.
The gully could be dangerous before it was filled in. One night there were two cars travelling through the gully: the second car pulled out to pass the first while still in the gully and collided head on with a motorcycle, killing the driver of the bike.
Prior to 1939 and the paving of the townline between and Bosanquet Twp., Townsend Line would break up through the bush between 9 Sideroad ( Village Rd.) and 15 Sideroad (Bethel Road) in the spring. It would become impassable and traffic would be detoured down 9 Sideroad, up the 6th Line and back to Townsend Line at the 8th Concession of Bosanquet Twp (Jericho Rd.). In the early days of automobiles, those unfortunate enough to get stuck would be pulled out by horses, and later by tow truck.
In the spring following the first paving the road broke up again, not having had a good bed laid and not being properly drained. It was a real mess. Then the area was excavated, a good base secured and the section was repaved through the bush. This was a great improvement but the road was still spongy during the spring. In 1948 the ditches were deepened and cut back to the fence line, which allowed water to drain from under the bed. Today it is in very good condition.
When Hwy 7 was built and later paved, it joined the Egremont Rd. at Village and the Egremont was paved as far as Hwy 7 north to Arkona. The section east to Hickory Line in Middlesex wasn't paved until 1953. The route travellers took was south to Watford and east to Strathroy via the 4th Line (now Confederation Line) and back on to the Egremont (Hwy 22). Strathroy and Watford had lobbied the government to get Confederation Line paved, which was done in 1927. Oldtimers still refer to this stretch of road as the "old 22".
In an interview for this project, Arnold Watson talked about the building of Hwy 22 in front of his property on the Egremont Rd.
This road was a good County road, gravel. It was rebuilt and made paved highway in the early 1950s. This road was built. This road has never been rebuilt. It has been recovered, but not rebuilt. The engineers knew what they were doing. There is anywhere from three to six feet of fill in that road, all over. It is a good road. On a bad day [from Hwy 402 traffic] this road gets all the traffic. I remember out here in front they dug the road down 15 feet. They ran into quicksand. A neighbour was going up the road, they had scooped out the quicksand, and the neighbour got down in the quicksand and she got in this hole with her car down below the road.
They dug the quicksand right out, and then filled the hole. As you drive by you can see how they dug it down. We used to come up four feet to come in the driveway. All this front was taken off. The road used to go up over the hill at [John] Koolen's. It was quite a hill. For us to get in was terrible. There was pasture at the front and there was a gate at the road. You had to turn in the driveway, stop and open the gate, then get out and shut the gate. When the highway came along they wanted fill, and they wanted to take it off and we said sure and they built us a laneway, a good laneway like the road, that the snow does not get on.
Scott Jackson was the contractor, who made the laneway, took the dirt off and we come right in off the level, have ever since. Of course it is not level up here....
The road in the spring, from just beyond the hill, it used to break up in the spring. Parkers had a team of horses; they had them harnessed 24 hours a day to pull cars through the mud. Dozens of them would get stuck in the mud and quicksand, all the way from this side of 8934 Egremont Rd. to well on down the road to the east down to almost Mac Parker's [9077 Egremont Rd.]. It would just break up in the spring. We didn't go out much at that time of the year. When they got stuck they went into Parkers and they had the team to pull them through. Of course that was low land down in there and six to ten feet was built up down in that spot.
When they were building 402 [in the 1970s], we had the land across the road and they took off land across the back for the road and a man came in here and wanted a place to put stumps and top soil and I asked them don't you want to build the road up? They said no. I said, good night, this road was built up and he said no they don't do that anymore. Now they have built it up. That road was all broke up in 2 or 3 years. There was a spot up behind Sherman Williams' [8619 Egremont
Rd.] that was broke up and they never got it right for a long time.9
Clifford Lucas recalled in a newspaper item (source unknown) that road maintenance was always a high priority item with township and county councils. "But before the era of gasoline powered engines and the mammoth $160,000 scrapers that now run our roads, road maintenance was a slow and labour intensive task," he stated.
Lucas recalled that when he did the scraping for one part of Twp. he received 40 cents an hour for his work. He worked on a variety of scrapers including one model with a frame made entirely of wood with a steel blade suspended below. Mounted on steel wheels, this scraper required a four-horse team for power.
Other models he worked on included an all-steel model without a wheel, which required two men to ride on it for weight; it was also pulled by four horses. He said they finally advanced to an all-steel wheel-mounted, single-seat scraper that lasted up to the time of the motorized scraper.
According to Gerry Herbert, a former clerk of , the township purchased six graders between 1937 and 1938 for road maintenance from Guelph Ingot Iron Company, at a total cost of $860. He said the graders operated until 1946 when the first motorized unit was purchased.
He recalled when straw was used to fill in washouts or soft spots in the roads in the spring and how the horse-drawn scrapers would still be used after the introduction of the motorized scraper when spongy conditions prevailed in the spring.
Photo Gallery: Warwick Ch 21 Gallery 4 will appear here on the public site.
Due to the depth and heaviness of the snow in winter, Gerry said roads would be left unscraped in the winter, recalling how his own road (Egremont Rd.) remained under heavy snow cover for five straight months.
Once roads became better, other services were made available. By 1924 a taxi service was operated by W. R. Early in Watford. In about 1930 the Harper family operated an ambulance service. Over the years these services have come and gone. Ambulance service is again available in Watford in 2008.
Competing against rail traffic were (and still are) trucks and transports. Don Hollingsworth recalled that his father-in-law, Lloyd S. Cook, got into the trucking business in the late 1920s or early 1930s. At that time he had one of the best licences to truck in Ontario, an "open C," meaning he could haul anything anywhere in Ontario at any time. Eventually his son L. S. went into business with him but they sold the trucks and the licences to Bud Cundick. Budmar continues in the trucking business. Other transport companies with headquarters in Twp. include McKinlay Transport, Harper and Westgate Transport in Watford, Marsh Transport and Richards Transport in Arkona, Lawrence Transport and Shipley Transport in Forest.
In the 1970s, a four lane express highway was built through Twp. Highway 402 provides a link between Chicago and Montreal, thus opening up traffic and trade routes across North America. With only one exit in Twp., at the Nauvoo Rd., and another at the boundary with Plympton Twp., it encourages traffic to bypass .
Hotels, Motels, Cabins and Gas Stations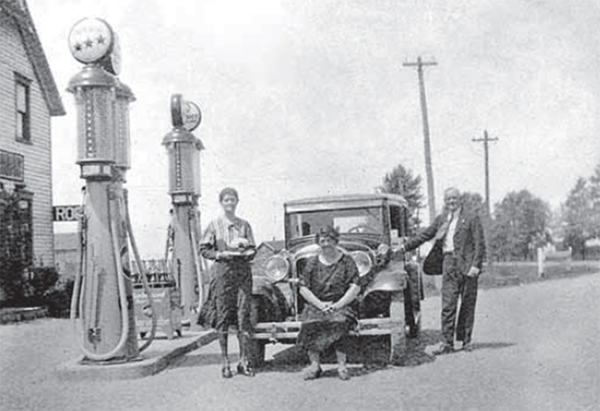 Waun's gas station originally started in about 1924 on Lot19/20, Con. 1 NER when Hwy 7 was a gravel road. It was relocated to the southwest corner of the intersection of Hwy 7/22 and 79 in 1931, after old Highway 22 (Confederation Line) was paved from Watford to Strathroy. In the days when family outings in the car were of a short distance, small country service stations, combined with variety stores and cabins, dotted the countryside. Courtesy D Aitken.
Hotels have always been in every community, serving the traveller. Some served as stagecoach stops, and later bus terminals. With the coming of the automobile, gas stations and garages were built along main routes as well as in the villages and towns. Many have been closed, especially after the oil crisis of 1973.
With the coming of the automobile, gas stations along the main routes built cabins to accommodate travellers. In Twp. they could be found at Waun's Gas Station just west of Nauvoo Rd. on the Egremont Rd., at Smith's Gas Station in Village and in Forest at King St. East. As transportation improved by the 1960s, motels came on the scene and the cabins disappeared.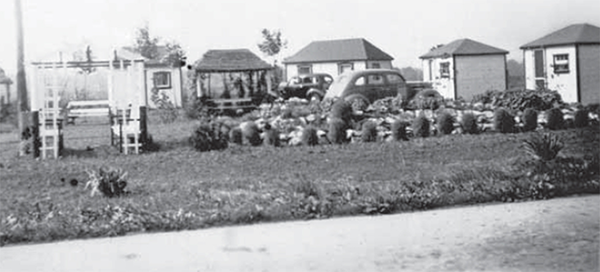 Waun's Cabins: Cabins such as these were common up to the 1950s when motels became more popular. Courtesy D Aitken.
In 1946 there were eight gas stations in Watford, north of the tracks. Sid Routley had White Rose on Confederation Line where the Township Work Yard is in 2008. British American (BA) was on the southwest corner of Main and Ontario St. Jack Joint operated the Texaco station north of town on the east side of Nauvoo Rd., later operated by the MacLachlan family. Benny Winter's Supertest, now Vi-Way, was north of town on the west side of the Nauvoo Rd. Jack Caley's City Service was on the southeast corner of Main and Erie St. Orville Wallis' Supertest was on the northeast corner of Main and Erie St. Graham Ford was on Main St. south. Ross Saunders' Reliance Fuels was on the southeast corner of Main and Front St. This was sold to Motors in 1948.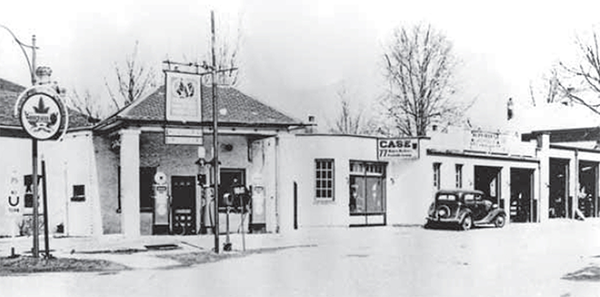 Caley's Supertest Station: This was one of many gas stations in Watford, located at the northeast corner of Nauvoo Road and Erie St. Courtesy G Richardson.
Dave Wilson submitted this history of Wilson's Shell, south of the railroad tracks to the history project. The business was started by the late Norman R. Wilson. He worked nights at Androck Wire Works. When walking home in the morning there was a pole light from the former Imperial Poultry Plant that shed a light on a small knoll of land and he envisioned putting a gas station on that site. In 1946 he purchased that property from Hiram Moffatt, part of Lot 18, Con. 6 SER, and opened for business on June 15. In 1947 he started to build the present building with $2,000 borrowed from Shell Oil, paying it back at one cent per gallon to Shell on each delivery. He had this loan paid off in 16 months.
In 1947 gas was hand pumped into a ten-gallon globe on top of the pump. Gas sold for thirty-three cents per imperial gallon. (A twenty pack of cigarettes sold for thirty cents, Coke sold for five cents and Planters peanuts cost five cents.) Norman's son David ran a radio and television business at the site for 22 years. In 1959 a Motor Vehicle Licence Office was opened. The Wilsons operated this for 35 years. In 1968 Dave and Norma Wilson purchased the business. In 1990 renovations were done and a
two-bay car wash was opened. In 1994 the business was sold to Nancy Saul and the business continues to operate as Wilson's
Shell in 2008.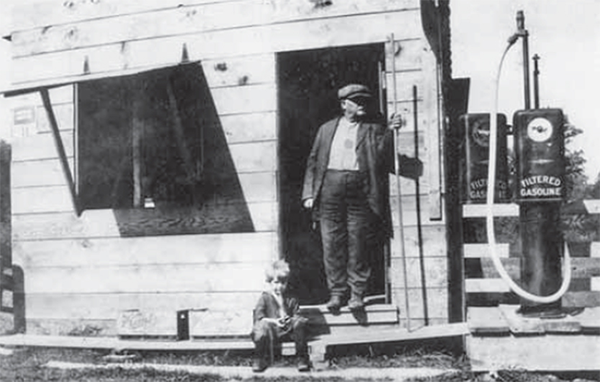 Fenner's gas station, Warwick Village: This service station was one of five operating in and around Warwick Village. Courtesy D Fenner.
There were other gas stations on Hwy 7 and 22. One was at the southeast corner of Hwy 21 (Forest Road) and Hwy 22 (London Line), while another was at the corner of Con. 2 (Zion Line) and London Line. Another gas station was located a mile farther east on the south side, and gas pumps were located at the General Store in Village. Carroll Goodhand had a gas station southwest of the Village bridge. East of Village just over the creek on the north side, Wilf Marriott ran another. Both these men changed locations in the village after a time. One station was at the corner of Hwy 7 (Arkona Rd.) and Egremont Rd. on the south side, and one was near the east boundary of the township at Parker's store on the north side of the Egremont Rd. One of the first stations in Village was operated by the Fenner family near 9 Sideroad ( Village Rd.).
Maxmobile
Twp. also played a role in the "pioneering" of automobile development. David Alexander Maxwell was known in the area for his work as a garage man; it has been noted that he had the first service station in Watford, selling White Rose gasoline out of five gallon pails. Maxwell built the first car of the countryside in 1900, the Maxmobile, and it is claimed to be the first car built in Canada. It was still operable when he died in 1930 and is now on display at the Watford Museum in 2008. Maxwell preferred using belts to a gear transmission, since this was quieter and did away with slipping. An idler rode on the rubber belts. By pulling a lever the driver could tighten the drive belt, which provided either first or second gear.

Dave Maxwell in his Maxmobile. Courtesy D Hollingsworth.
Car Dealerships
Frank Taylor was the first automobile dealer in Watford in 1912, selling Studebaker, followed by Ray Morningstar who started the Ford dealership in 1915. Ray also had a Ford dealership in Village in 1925. He operated from this site for six months, then sold the building to James Brush.
By 1916 R. C. McLeay was selling Chevrolet. McCormick and Auld were selling Overland in 1917. In 1923 the Williams Bros. were selling Overland and Willys Knight. In 1924 J. H. Humphries was selling Chevrolet. Starting in 1926 Pontiac was sold by Watford Pontiac Sales. The same year Williams Bros. were selling Essex. In 1927 Basil Saunders was a Pontiac dealer; Whippet was being sold by Williams Bros. and J. H. Humphries sold Oldsmobile. In 1928 Basil Saunders sold Chryslers. In 1929 Ray Morningstar was selling Pontiac.
Dave Maxwell became the Maxwell Auto Dealer in 1918. The Maxwell car (not Watford's Maxmobile) was first built in New York and known as Maxwell-Chalmers. The first cars were chain driven, changing to shaft driven in 1905. Eventually the company became the Maxwell Motor Co. Inc. and Walter P. Chrysler was later brought in to reorganize it. Chrysler purchased the company in 1923. The first Chrysler was built in 1924, the same year as the last Maxwell.
In 1930 Durant was sold by W.A. Mason and by L. W. Harper. Corestine and Doman were selling Plymouth. In 1940 Jack McCaw brought Studebaker sales back to Watford. Then, in 1949, the garage was sold to Motors, a company headed by Clarence Edmond Leslie (Clare) McGregor, the Chrysler dealer from Forest. It was closed in 1953 and the building was sold to Russell Watson, who operated a lumber business. This location later became a used car lot.
There was a great deal of turnover in automobile agencies. The first Ford agency in Watford was started in 1915 by Ray Morningstar, an Arkona resident. Ray also sold other makes of cars during his years as a car dealer. He operated from a building at the south end of Watford on the west side of Nauvoo Rd., near where the Grogan Ford dealership is today. In October, 1939 the business was sold to R. W. Graham, who conducted business there until 1957 when he sold it to his son R. R. Graham, who operated it under the name R. W. Graham & Son. In 1961 the garage was destroyed by fire. A larger, more modern garage was built on the same site. In 1964 Grahams purchased the Merchants Bank building and the Cowan law office and extended the building to the south. In April 1976 the dealership was sold to Larry Grogan of Glencoe, who operates it today.
Another long-time dealership in Watford was Wallis Motors. The Supertest Oil Co. opened a service station at the corner of Main and Erie St., the former location of Joshua Saunders' blacksmith shop. Dan MacDonald carried on business here until September 1933, when it was taken over by Orville E. Wallis, a young man from Brooke Twp. From here began a long career for Orville. He put in long hours and hard work. Several additions were made to the station over the years. In 1937 Orville became the agent for General Motors vehicles, including Chevrolet, Pontiac, Buick and Oldsmobile. He also sold Case farm machinery. Orville was also the first operator of school buses in Watford.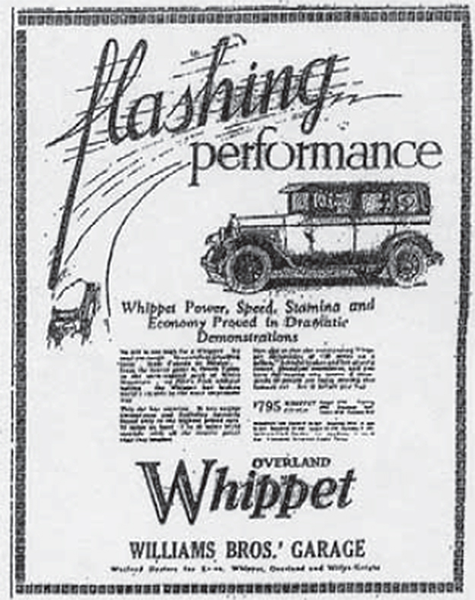 Overland Whippet advertisement, 1927: This car was sold by Williams Bros. in Watford. Courtesy L McGregor.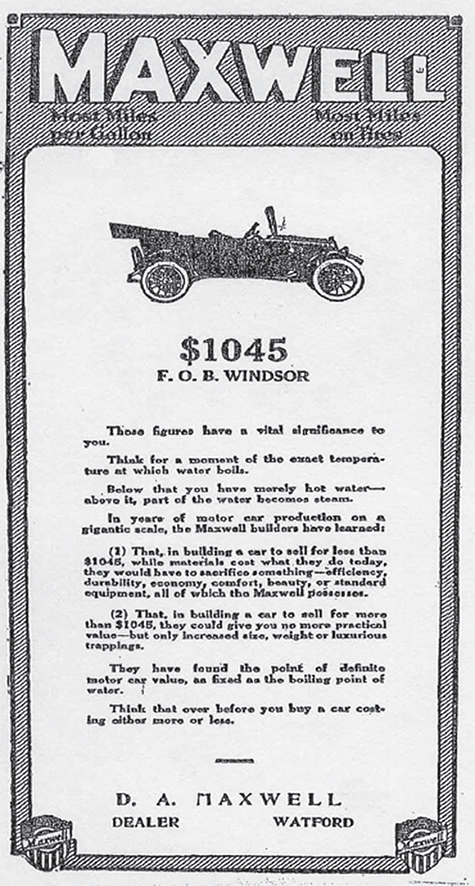 Maxwell car advertisement, Watford. Courtesy L McGregor.
Wallis' business grew so that his location was no longer large enough. A new shop was built at the corner of Main and Simcoe St., the previous location of T. B. Taylor's house. Wallis Motors moved there in 1949. In 1952 General Motors made a new redistribution of agencies and Orville chose to go with Pontiac, Buick and GMC trucks. In the following years, Orville's son, Ronald, joined the staff. Later sons Douglas and Roger also joined him. Douglas took over the sales end of the business from his father while Ron managed the service shop. When Ron retired, his son Greg assumed the position. When Doug retired, his son Sam took over the business and operated at the same location until 2005, when he purchased the Pontiac Buick dealership in Sarnia. Wallis Motors then moved to Sarnia.
The original Wallis Motors building at Main and Erie St. was purchased by Acton Tire, operated by Ken Acton, who later also purchased the Wallis Motors building at Main and Simcoe St. In 2008 Joshua Saunders' great-great-great-grandson is one of the occupants in the building at Main and Erie St., the former site of Joshua Saunders' blacksmith shop.
Orville's son Roger ventured out on his own, purchasing the Chevrolet-Oldsmobile dealership from the Bruce Siddall estate in Forest. Roger built a new building on the south edge of Forest, later selling it to Bluewater Ford. For the next few years Roger operated a used car lot at King St. east in Forest, before moving to Exeter.
Ross Saunders built a garage on the southeast corner of Main and Front St. in 1946. He did mechanical and auto body repairs. In 1947 he took on the Dodge-DeSoto dealership. The next year he sold to Motors. There was an addition added to the east
end of the building to accommodate a separate body shop. A year later, Ross sold his shares in the dealership and moved to a site at the corner of Simcoe and Wall St.
Motors sold J. I. Case, John Deere, and Ferguson Tractors and farm machinery. They did general repairs and also sold Reliance products. This business operated until 1953 when it was sold to Watson Lumber. In about 1989, the property was sold to Grogan Ford.
On the side of Forest, Richard Prout was the first car dealer, selling Dodge in 1924, followed in 1927 by Chrysler dealers R. E. McGregor and Son. The business was closed in 1956. Glen Kernohan started selling Dodge-Desoto in 1935. This business is still operating today under Kernohan Motors. They picked up the Chrysler-Plymouth line after McGregor Motors closed. Scott Motors sold Pontiac Buick from 1953 to 1957.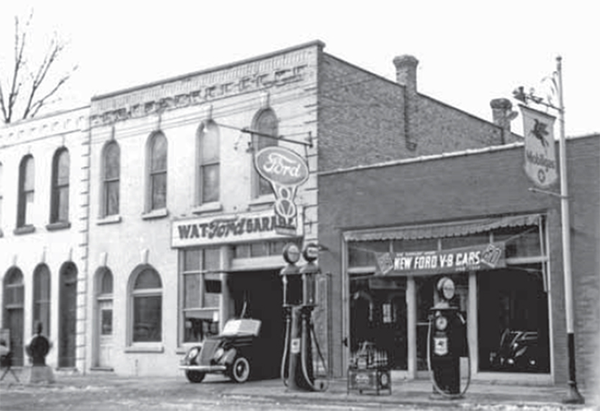 Ray Morningstar's Ford Garage, Watford. Courtesy D Hollingsworth.
Electricity
The Hydro-Electric Power Commission of Ontario was formed in 1906 to supply municipal utilities with electricity generated by private companies already operating in Niagara Falls. Transmission lines began supplying power to southwestern Ontario in 1910. The original 25 Hz (cycle) service was changed to a 60 Hz cycle in 1948. In April, 1999, Ontario Hydro was organized into five companies, Ontario Power Generation, Hydro One, the Independent Electricity System Operator, the Electrical Safety Authority and the Ontario Electricity Financial Corporation. It was to be operated as a private business.
Watford
The history of municipal lighting began in Watford in 1884 when John McWaters was given a contract to install and operate six lamp posts and supply oil and lamp chimneys. In 1889 Watford Council approved electric street lights, as supplied by Messrs. Dewar and McLeay. The electricity was produced by a small steam generating plant. In 1894 a second plant was put into operation by Messrs. Fitzgerald and Sauermann.
Negotiations began with the Hydro-Electric Power Commission of Ontario in 1913, but it wasn't until 1917 that hydro was actually turned on. In 1921 Watford Council established a Public Utilities Commission, made up of the Reeve and two commissioners. By 1952 the operation had grown from six oil lamps to a utility with 1,100 customers.
Forest
In Forest the first street lights were supplied by Hamilton-Prout from their mill on Broadway St. Lights consisted of 15 arc-burning lamps installed on 40-foot poles at the main intersection. Each day a man had to install new carbon in each lamp by lowering the fixture to the ground and then pulling them back up for the next night. It was generated by a 133-cycle generator driven by a slow-speed steam engine. Hamilton-Prout charged $750 a year for this service. In 1910 Forest discontinued this contract and built its own generating plant on Jefferson St. The Public Utilities Commission was formed in 1915, and in 1917 Ontario Hydro began to service the town.
Arkona
In Arkona the Rock Glen Power Project was born in 1907. The company sold shares at $100 each, to provide $40,000 in capital for Thomas Mitchell, John Fuller, Wesley Fuller and Fred Nelson to build the plant. The first engineer was Alex McGibbon. In 1914 William Woolvett took over operation of the plant until it closed in 1926.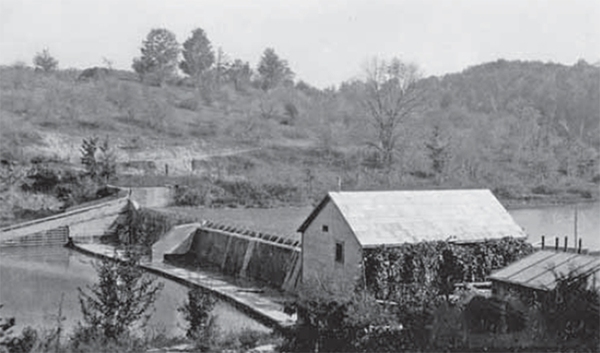 Rock Glen Generating Station and dam: Although not located in Township, this was an important source of energy for the local area. Arkona was served as early as 1910. Courtesy D Hollingsworth.
In 1927 Arkona was serviced by Ontario Hydro. The first power to Arkona was supplied through the Forest substation, reaching Arkona by way of an indirect 14-mile line. There were regular voltage drops and frequent power interruptions, especially during storms. In 1939 a substation built on the 4th Con. of Bosanquet Twp. supplied Arkona's needs.
Village
In 1927 Alphonse De Clark installed an electricity generating plant behind the Garage in Village to supply lighting to the General Store, the Maple Grove (Maple Leaf) Hotel, St. Mary's Anglican Church and B. B. Dann's residence, as well as the garage itself. In 1928 De Clark sold the plant and it was turned over to several owners/operators over a short period. In 1929 Carroll Goodhand leased the garage and the plant, until Ontario Hydro started supplying hydro to the village in 1931.
Township
The provincial government announced it would financially assist farmers who wished to put hydro on their properties in 1925. The government required at least three farms per mile to sign up for service. Rural lines were soon installed. It would be more than 30 years before all farms were hooked up to the grid.
Newspapers
Arkona's first newspaper was The East Lambton Advocate. The editor was W. W. Buchanan, who printed it from 1876 to 1881. It then merged with Watford's Advocate and East Lambton Reflector and the Forest Advertiser to form the Advocate and Adviser. It
was published alternately in Watford and Forest. In 1886 the Advocate and Adviser merged with the Watford Guide and Watford News to form the Watford Guide-Advocate. The Guide-Advocate, serving Watford, , Brooke-Alvinston and surrounding areas,
continues to be published weekly in 2008. It is now owned by Hayter-Walden Publications Inc. of Parkhill.
The next Arkona newspaper was the Arkona Star, established in 1909. It was a weekly that sold for five cents a copy. It was published every Thursday in a small office on the second floor of the Royal Hotel (Home Hardware in 2008). The owner, Mr. Gadd, set the type. This newspaper went out of business in 1910. In 1946 the Arkona Star came into being again. It was designed to appear quarterly. The editorial staff consisted of Herbert E. Marsh, Robert Austin and Walt Whitefield. The March 1947 edition carried 34 business advertisements and Sunday notices from five religious bodies.
In the 1960s the Arkona-Thedford Enterprise appeared, co-edited by Jack Cooke. This was a weekly published in Thedford.
In Forest, the Forest Express was started by the Massecar Bros. in 1874. It was a weekly delivered on Fridays. In 1878 it was sold to the Forest Free Press as a joint stock company under the name Forest Advertiser. After several more transactions, The Forest Free Press continued to be the only Forest newspaper from 1881 to 1893. Its owner Henry John Pettypiece built a new building (where The Source is located on Main St. in 2008) attached to the Arcade Block north of it in 1907. This was a two-storey concrete block building with a full basement, built at a cost of $3,000. The newspaper stayed in Pettypiece family hands until it ceased publication in 1968. In 1972 the business was sold to J. Pole Printing.
The Standard, located on the Plympton Twp. side of Forest, owned by Hayter-Walden Publications, has been serving Forest, Thedford, Port Franks, Arkona, Ipperwash, Camlachie and surrounding areas since 1893.
Air Travel in Township
Although the first airplane flight in Canada was in Nova Scotia in 1909, air travel in Twp. started later than that. At the Watford Old Boys' Reunion in August, 1924 a pilot took people for flights in his biplane at $1 per minute. In 1927, a Curtiss Jenny biplane landed at the corner of the Birnam Line and Arkona Rd. near SS#8, the White School. The pilot offered to take passengers up for a brief flight for $5 each. Several people from the area mustered up the money and took a flight. It was reported that the famous "Spirit of St. Louis," flown by none other than Charles Lindbergh himself, made a flight over while Lindbergh was on his way to the Canadian National Exhibition in Toronto in August, 1927. These airplanes were the first ones seen by the residents of .
For years light aircraft have been a choice of travel for many people. Such is the case of the "Flying Farmers," who enjoy trips to many places and have fly-ins at various private fields where they enjoy entertainment and picnics. Glen and Mildred Kernohan were members of this group.
In recent years farmers have made use of small airplanes to plant their crops. One fall in the early 1990s fields were wet and many farmers could not harvest their soy beans in time to plant winter wheat, so they hired airplanes to drop the wheat seed over their unharvested fields. This proved to be a very expensive way to plant wheat.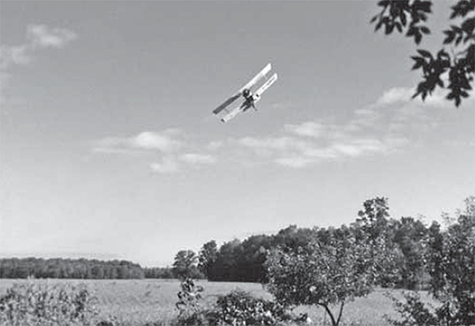 Planting wheat at Keith Turnbull's, 1990: In a particularly wet fall biplanes were used to plant winter wheat. Th is was not an economically feasible method of planting a crop. Courtesy P Janes.
Telegraph
Prior to the coming of telephone service many areas communicated by telegraph, which came into this area in 1870. It followed the rail lines. There were offices in all the villages and towns along the route. In Twp., Watford and Forest had telegraph service. An 1898 Gazetteer notes that Kingscourt also had Canadian Express and GNW telegraph.10
Telephone
Forest
People's Telephone Co. of Forest started in 1891. The first office was located at 27 Main St. N. in the W. J. Bell Livery building, with Ralph E. Scott as manager. The company canvassed for shareholders. There were 34 subscribers, paying $10 a phone. There were nine operators and four linemen employed.
The first telephone call was made in 1891 from Scott's Drug Store. The first telephone line built was to Birnam. In the early days farmers helped erect their own poles. By 1906 the company was incorporated to become one of 350 private telephone systems started in the district. In 1908 the company was re-incorporated under the provisions of the Ontario Company Act with an authorized capital of $20,000. They then extended their lines to the Egremont Rd.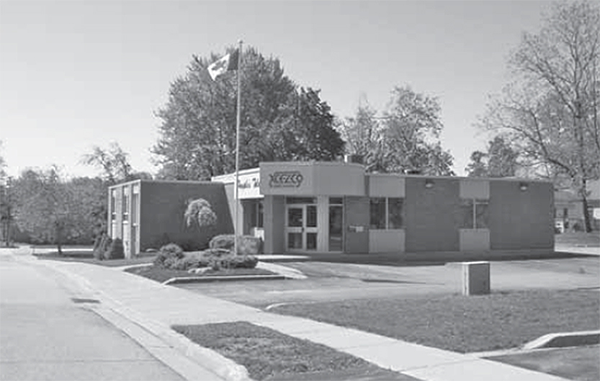 People's Telephone/Xcelco building, Forest. Courtesy L McGregor.
By 1910 summer hours were 6 a.m. until 9 p.m. A new directory was published, with 254 phones listed. Long distance was established with Bell Telephone and a line was connected with the Morningstar system in Arkona.
In 1912 Stanley Ellerker worked as a linesman, making $12 a week, and his wife was a telephone operator. There were two operators on duty for three shifts. Hours were extended and the cost of a call after 10 p.m. was 10 cents. In 1931 Alex Sutherland became manager and remained in this position until 1976
In 1958 a dial system was put into service. In 1961 an ice storm cut off three quarters of the service and cost the company $770,000 in repairs. By 1978 all systems were digital. People's Telephone was sold to Amtelecom of Aylmer in 2006 for $55 a share.
Arkona
Elbert Morningstar brought the telephone to Arkona in 1909. The October 28 issue of the Arkona Star reported that:
a new telephone system will be inaugurated soon. It will be known as the Arkona, and Adelaide Long Distance Telephone System. The control office will be in Mr. and Mrs. Harnish's residence, and lines will be extended in all directions from that office. Two car loads of poles and several tons of wire have arrived, and work will begin immediately.
The lines were strung in the fall and winter by Mr. Morningstar's farm workers, Lorne Murray, Robert Lean, Wallace Martin and Ray Martin. The Harnish house became the nerve centre of the enterprise and Mrs. Harnish presided at the switch board replying "Arkona Central."
The first telephone directory, containing 110 names, was printed in 1909 by the Arkona Star Press. In the next six or seven years, 61 additional names were written in to the book by hand. By 1916 the system was called the Morningstar Telephone System. For a fee of five or ten cents, subscribers had access to the private systems in Forest, Watford, Thedford, Kerwood, Coldsteam and West Williams. They could reach Sylvan and Bell long distance at no cost.
Following the death of Elbert Morningstar in 1917, his daughters Leah and Charlotte sold the family's farm and bought the Fields house, where they set up the telephone system's switchboard. They operated the system from there. Howard Percy, their lineman, maintained the lines and did the necessary servicing of the telephones, with the occasional aid of Carman Hall.
As time passed the Morningstar girls found it increasingly difficult to carry on and they decided to sell. Since Howard Percy had a thorough knowledge of the system, his father Walter Percy bought all the assets of the company in 1919 and Howard and Walter proceeded to operate the communications enterprise that had served the Arkona area efficiently for a decade. At this time there were 350 subscribers living in the village and area stretching west to Village, south to the Sarnia Gravel Rd. (Egremont Rd.), east to Keysers Corners and north to a few yards beyond the Arkona boundary. Central (as the switchboard was known in colloquial language) was still in the Morningstar home and the sisters continued to preside at the switchboard much of the time. They were assisted by Margaret Donaldson (Mrs. Loftus Wilson), Nellie Donaldson (Mrs. Ross Herrington), and Arthur and Anna Percy.
Walter Percy did not enjoy the uncertainties inherent in the world of business and he sold the entire system, then known as the Arkona-Parkhill Telephone Co., to Milo Chamberlain in 1922. The main office was located in the white frame building attached to the Morningstar house on Frank St. The Morningstar sisters manned the switchboard by night. During the day it was the responsibility of Lillian Johnston, Sarah Hostetler, Arthur Percy and Anna Percy. When the office was moved to the unattended dial centre, Mr. Chamberlain helped members of his family monitor the switchboard. During the daytime Alma (Donaldson) Benedict, Myra Glenn, Carolyn Johnson, Lillian Johnson, Venita and Dorothy Gray ran the system.
In 1956 Chamberlain transferred his Parkhill assets to Bell Canada and the Arkona interests to the People's Telephone Co. of Forest. Norman Perriam, who began with Mr. Chamberlain in 1952, went to Forest until his retirement. Another employee, Harold Zavitz, started his own business. Ladies working the switch board were Mrs. Jack Fitchett, Mrs. Gordon Curts, Mrs. Grant Zavitz, Mrs. Russell Glenn, and Mrs. William Bryson.
The dial system came to Arkona in 1958, and direct distance dialing followed in 1968. The seventy-year period following the establishment of Elbert Morningstar's telephone company saw many changes, but none more dramatic and far-reaching than the technological advances in telephone communications.

Three types of telephones used in the early and mid-parts of the 1900s: wall, desk, and dial. Courtesy P Janes.
Watford
The first telephones in Twp. were in Watford, where a primitive switchboard was installed in T. B. Taylor's drugstore on Main St. in 1885. Mr. Taylor was appointed manager. Local telephone service was available from 7 a.m. until 8 p.m. weekdays, 2 until 4 p.m. on Sundays and from 10 a.m. until noon and from 2 until 4 p.m. on holidays. The subscribers listed in the December 1885 directory were the Bank of London, Peter Dodds' Grocery, Grand Trunk Railway, Howden & Swift Grocery, Lawrence Bros. Lumber, Meredith & Scatcherd Law Office, Angus Mitchel Livery, T. B. Taylor Drug Store, T. B. Taylor's residence and Thom & Doherty Foundry. In 1887 William McLeay assumed Mr. Taylor's duties as Watford local manager, which he continued for 35 years. From a mere handful of customers in the beginning, he saw the number increase over the years, to over 100 by 1917.
Before 1900, several private lines were built in the Watford area. One rural line extending south from the village to nearby Walnut in Brooke Twp., was started by Dr. John McLeay in 1884. Dr. McGillicuddy, a veterinarian, built a line north to Village. An independent telephone company, known as the Brooke Municipal Telephone system, was formed in the vicinity of Watford in 1911.
The history of the Watford telephone system in the Watford Centennial Book, 1873–1973, states that in 1908 the Watford exchange made an average of 75 local and 10 long distance connections daily. There were 25 telephones in service and 11½ miles of wire through the town. The switchboard was supervised by one male and one female employee.
In 1948 the days of the crank phone came officially to an end when the battery system of operation came into use. It was no longer necessary for Watford telephone users to turn a crank to summon the operator: customers could do so by merely lifting the receiver on their new phones. Battery boxes were eliminated from customers' sets and were centralized at the telephone exchange. Watford's dial building was completed in 1963, at a cost of about $500,000, and the town's telephones were converted to dial operation on December 1, 1963.
Internet
In 2008 we are well into another revolution in communication. The internet has quietly become a necessity for most people. Text and images arrive with voice over the internet, which is transported over telephone lines through most of Twp. The main change has been the ability to receive and send information almost instantaneously around the world. Libraries of knowledge are now at one's fingertips. As with all communication advances, however, bad news comes with good, and is now exposed to raw aspects of the world which we have to learn to deal with, a challenge much greater than ever before. We have come a long way from the first 19th century telegraph communications!
Television: December 1947: Television pictures were received in Forest for the first time. The Canadian General Electric Company was kind enough to send a television receiver there which was set up at Field's Radio Store, and the results were gratifying. Good pictures were received from Detroit, a distance of 75 miles, as the recognized operating distance and is somewhat of a record. SOURCE: "Reflections of the Past," The Guide-Advocate, December 20, 2007.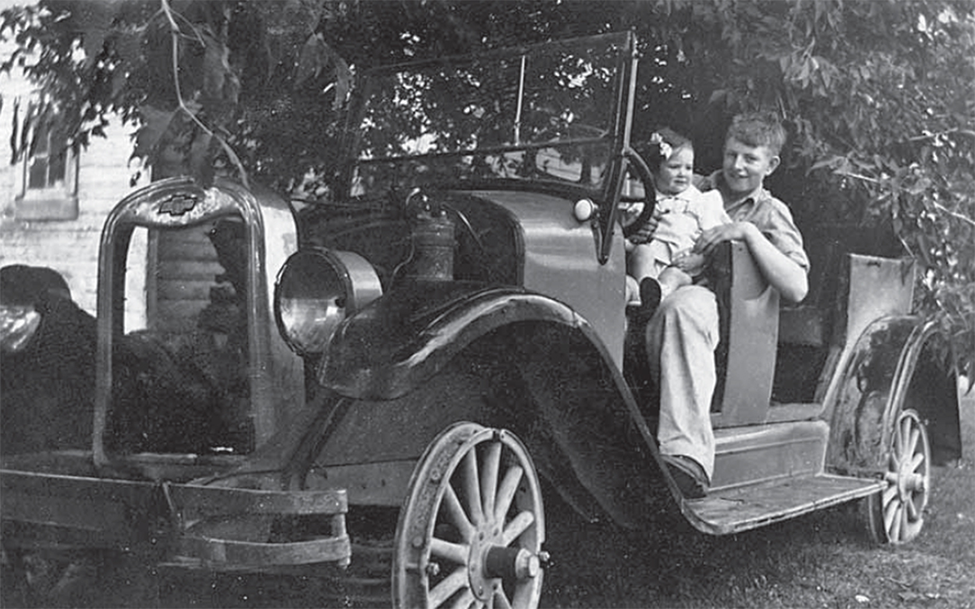 Children playing in an old car; probably in Warwick Village. Courtesy J Dunlop.
---
---
Endnotes
These links were used at the time of publishing in 2008. Some links may have changed or may no longer be active.
1. Women's Institute Tweedsmuir History Books.
2. Edwin C. Guillet, Pioneer Travel, Book IV, Early life in Upper Canada Series, Ontario Publishing Co., 1939, p.174.
8. Ron Sewell, interviewed by Paul and Mary Janes, London, 2006.
9. Arnold Watson, interviewed by Paul Janes, Twp., 2006.