Overcoming Adversities (Natural Disasters, Accidents, Fires, Murders and Diseases)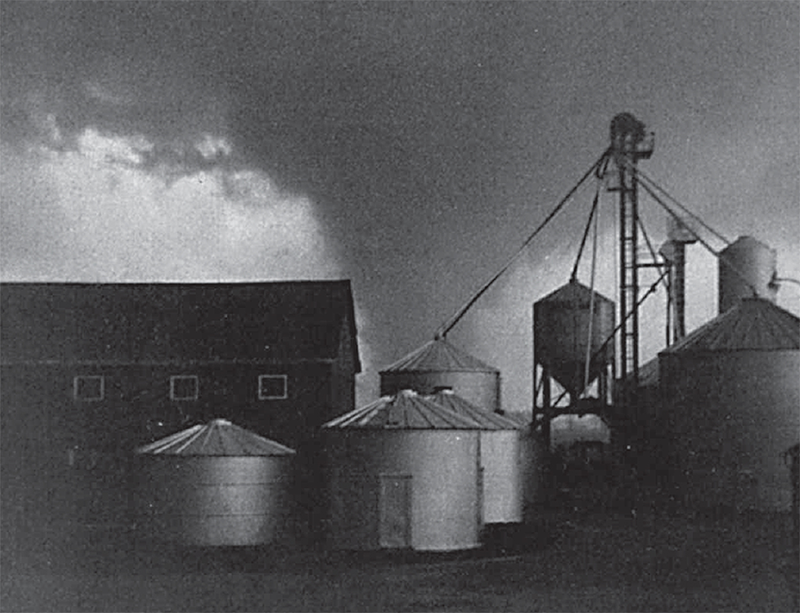 Tornado heading toward Vern Kernohan farm buildings, 1961. Courtesy S McKay.
by Janet Firman
Natural
In the 175 years of Township's existence, it has encountered many severe snow storms, ice storms, floods, tornadoes and other natural disasters. The following account describes a few of the more dramatic events.
Wind
In August 1903 it was reported in a local newspaper (name unknown) that a violent cyclone, described as a water spout coming out of Lake Huron, with tremendous winds, rain and hailstones, descended on Twp. It destroyed barns, windmills and crops such as oats, corn and clover, and did severe damage to fruit orchards. The fact that no lives were lost was remarkable. The total damage in was estimated at $8,000. Although this storm came from the lake by way of Plympton Twp., it missed Forest completely.
The Watford Guide-Advocate reported that on Good Friday, March 23, 1913, a "fierce equinoctial gale," a storm of tornado intensity, raged over Watford and the surrounding country, causing heavy damage. The wind, its velocity about 65 miles per hour, started about 11 a.m. and continued until late in the evening. Roofs were torn off, trees uprooted, chimneys crumbled, windmills blown away and silos were blown off. The roof of Colonel and Lorena Dunham's house on Lot 24, Con 5 NER was totally destroyed. George Fenner's barn was lifted up and over the cattle and deposited some distance away, but not a head of livestock was hurt.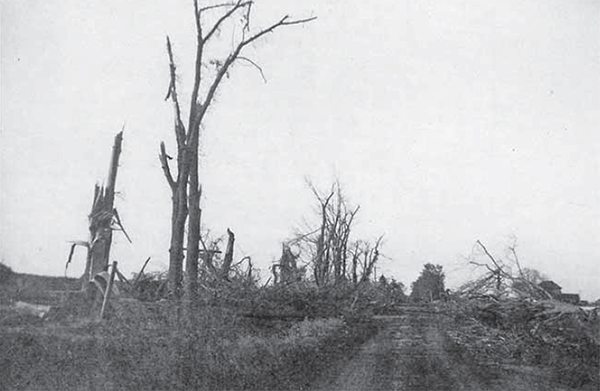 Trees along 15 Sideroad downed by tornado, 1953: Tornadoes cause devastating damage when they come through an area. Often they destroy buildings; sometimes people are killed. Courtesy S McKay.
The most devastating tornado in history swept through Sarnia and east through Twp. on May 22, 1953. On its way it struck the two homes of Franklin and Orville Clark on the 2nd Line SER. Mrs. Franklin Clark was sucked out through her kitchen window and later died in the hospital. Orville's home was demolished; his wife and daughter were injured. The storm continued down the 2nd Line SER, taking Russell Williams' barns and Norman Mansfield's barns, henhouse and drive shed. The tornado then jumped over to the 2nd Line NER, damaging Ken and Evelyn Janes' barn. Other farms damaged were those of Bert Lester and Howard Cable in the Bethel area, Robert Hall at Birnam, Wilfred (Bus) Dunlop, Frank Barnes and Fred Tanton, all on the 4th Line (Birnam Line) east. Ray Bell lost his house and barn while the family was eating their supper. Luckily the family only suffered shock, bruises and minor injuries. Allan Roder's barns near Arkona were badly damaged. Glen Edlington and Harry Cockran, east of the White School House on Birnam Line, lost their barns too. The White School House, SS#8, across from the Roder Turkey Farms had only one shattered wall left standing after the tornado struck. Only two hours earlier the pupils had been at their desks, but fortunately the school was empty when the tornado struck. A story was told about Donald Ridley who was driving his pickup truck along the 4th Line east of the school. The tornado picked up Ridley's truck and turned it around, sending him safely in the opposite direction. The tornado continued into Middlesex County east of Arkona toward Parkhill.
Janet Firman remembers another tornado, which struck their farm on May 12, 1974.
The tornado followed Bear Creek east from Village, crossed Brickyard Line and came down at our place Lot 14, NER. There was the large pond on our front lawn. That was the only thing that saved our home because tornadoes go for the water. It uprooted many old, large trees. It also blew the west gable end of the house in about one foot and lifted a large heavy raft out of the pond over into a field. A picnic table and chairs were destroyed too. Johnny and Josie Verheyen next door had their barn and drive shed damaged.
The Watford Guide-Advocate reported in 1977 that a wind storm of high velocity left a trail of damage along Zion Line east, uprooting trees and damaging buildings. Jim and Dawn Thompson lost their barn. Allan Fuller's van was crushed in his yard by a fallen tree.
In May, 1983 the Forest Standard reported a fierce tornado hitting Reece's Corners and continuing down into Twp. Hardest hit was the farm of Bill and Jo MacKenzie on Brickyard Line near Forest Rd., where a drive shed and pig barn were destroyed. The MacKenzie house also received extensive damage and had to be torn down. The homes of Robert Davis and James Martin on Con. 4 NER (Birnam Line) were damaged, and at the farm of Jim Brandon on Con. 5 NER, a drive shed was destroyed, a large barn toppled and the house damaged. The final farm hit was Joseph Wouter's on First School Rd. where a large grain bin and equipment came down and the doors were torn off a drive shed.
Rain
The Watford Guide-Advocate stated that in June, 1986 high winds and six inches of rainfall hit Watford and played havoc with many areas. The Ambassador Christian School in Watford had much damage done to it. Garages, cars, parts of roofs, TV antennas, metal sheds and trees were damaged.
On July 16, 1988, a flash flood occurred in a small area around Village, along the Egremont Rd. from the Forest Townline to east of Nauvoo Rd. Twelve inches of rain fell in about seven hours. About 60 feet of the Nauvoo was washed out, leaving a gaping hole. The Egremont Rd. west of the United Church was completely flooded. Water rose high enough to enter through the steps of the school buses that had been parked for the summer in Gord Clark's yard east of Central School.
Flash flood at Joe McCormick's, July 1988: When 12 inches of rain fell in 7 hours, Bear Creek overflowed into Joe and Laurie McCormick's yard. Similar scenes were seen all along the Egremont Rd. At Gord and Wiloma Clark's property, the floors of the school buses were under water. Courtesy P Janes.
Snow
Janet Firman recalls the winter of 1944–1945 when there were heavy snow storms and blizzards all winter, from December to March. The family car was never out of the garage during this period. Snowplows were unable to get through. Horses and sleighs were the only transportation.
The Watford Guide-Advocate reported that a blizzard swept through Twp. on March 28, 1947, blocking roads and causing hydro blackouts. Frank Edwards on the 2nd Line SER had thousands of newly-hatched chicks boxed but blocked roads prevented shipment. He also had 100,000 eggs in hatching trays due to hatch in the coming week but after a long chill he suffered a great loss. In the ongoing blizzard, Village was isolated, and no help was available to fight the fire that swept the historic Maple Leaf Hotel.
Janet also remembers a large snow storm that hit the area on April 5, 1975. Dale Tanton, son of Mac and Doris Tanton, had died and the roads needed to be cleared for his funeral. The township had to bring a bulldozer to open the blocked roads.
Ice/Hail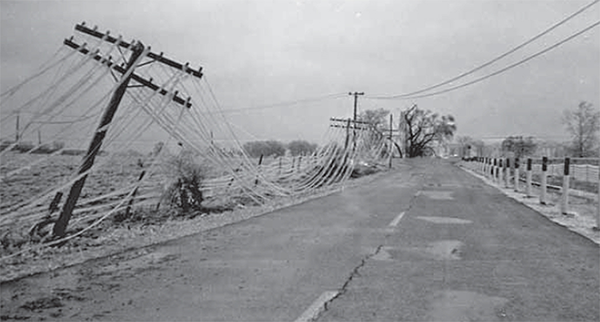 Ice storm, 1961: Freezing rain downed power lines and caused major power outages, which in turn caused hardships for dairy farmers and others who had animals or birds such as turkeys. Most farmers now have generators in case of ice storms. Courtesy S McKay.
On March 2, 1976, a huge ice storm hit the area and caused hydro wires and trees to fall. About 10,000 subscribers in southwestern Ontario were without hydro for six days after the storm.
The Sarnia Observer reported that a hail storm with high winds affected several areas in on July 19, 1988 damaging crops, causing power outages and knocking large branches off many trees. At Lorne and Marjorie Willoughby's residence on Hwy 22 near the Arkona Rd., large tree branches and parts of trees were torn from mature maple trees. Lorne also faced an unpleasant sight: his 32 acres of soybeans with tops knocked off the plants and the leaves shredded. Dennis Bryson, a dairy farmer in the same area, whose family had planted 300 acres of corn, remembers the hail that had destroyed the crops. The stalks were standing, but bent over and tattered with hanging leaves.
Accidents
Many accidents have occurred over the years in Twp. Back when the horse and buggy, sleighs or cutters were the main source of transportation, and when farm equipment was not mechanized as it is today, the accidents reported in the local newspapers were generally less devastating than those of today. With the use of mechanized farm implements and gasoline vehicles, there are many accidents of different kinds, with more fatalities. With more drivers on the roads and faster vehicles, there are many more traffic accidents, especially those involving young drivers. The following list, taken from local newspapers and from memories of local people, is representative and not exhaustive.
Early 1900s
Charles E. Lester of the 2nd Line (Brickyard Line) accidentally cut his foot while cutting wood in November 1901. The first three toes were almost cut off.
A 1905 report notes that, while driving in , C. Wall and David Dunham were thrown out of their buggy when "their horse took a fright" while turning a corner. Mr. Wall had a broken arm and Mr. Dunham hurt his back.
In early 1908 William Hall of the 2nd Line (Brickyard Line) met with an accident which broke his leg above the ankle; he had stepped on the tongue of his buggy to blanket his team of horses when one of the horses kicked him. In July of the same year Andrew Thompson of 15 Sideroad (Bethel Rd.) ran into a wire clothesline which hurt him badly, breaking two bones in his leg. That same month, Mr. and Mrs. Thomas Luckham were on their way to Watford when a passing auto frightened their horse and threw them out of their buggy.
In 1910 Mr. and Mrs. R. Marshall of the 6th Line were out driving with their horse and cutter when the horse became frightened by a train and ran away, throwing the occupants out of their cutter. They received only a bad shaking up.
In a 1911 report in The Forest Standard, Joseph Eastebrook was painfully injured at the ploughing bee at William Williamson's. One of the horses kicked him in the leg, breaking a bone. Another 1911 report mentions that one of the male members of St. Mary's Church, , received a puncture below the left eye from a lady's hat pin while exiting the church. There were no serious results.
A June 1923 report notes that Will Cable and his brother Howard were on their way to Sunday school when a nail punctured the rubber tire of their buggy. The wheel collapsed, which frightened the horse into running away, but Will held on to the reins and managed to turn the horse towards home. Neither Will nor Howard was injured.
As the twentieth century progressed the accidents became much more serious. A variety of accidents continued to be reported. In the late 1950s Ken Ross, brother of Annie and Bob Ross, was killed while drawing logs out of a bush east of Village. He was driving his tractor up a steep grade and it flipped over on him.
Later 1900s
Farm accidents
At the age of 37, on a cold autumn day in 1957, Wilbert Dunlop lost his hand in a corn picker. He explained that he was trying to unplug the corn picker from his idling equipment when his hand got caught. Since he was too far away to turn anything off, all he could do was holler until someone heard him. After about 15 minutes his cousins Clarence and Walter Eastman heard him, rushed over and removed his crushed bones from the picker. In those days there was little that could be done except remove the crushed limb; he was fitted with a metal prosthesis seven months after the accident, following a lengthy stay in hospital and another wait. He explained that he did not bleed to death because his heavy clothing, combined with the smothering crush of the machine's jaws, kept bleeding to a minimum.
Donald Duncan told about his brother Bob (son of Bert and Mary Duncan of Bethel Rd. NER) being killed at the Arkona gravel pit in July, 1963 at the age of 21. Bob had been told by his supervisor to go into the hopper and scrape the wet sand off the sides. In the meantime a trucker came along and dumped a load of sand into the hopper.
Jean Winsor, wife of the late Jim Winsor, who lived on Bethel Rd. north of Hwy 22, tells how she lost her right arm above the elbow while she and her two sons were shredding corn in 1965. A recent registered nursing assistant graduate of Strathroy Middlesex General Hospital, she returned to work in the physiotherapy department within a few weeks of her accident and continued there until she retired.
Joanne Van Kessel, now of Forest told about her 29-year-old husband Karl's accident in April of 1976. Karl and Joanne lived on Bethel Rd. between Brickyard Line and Birnam Rd. Karl was dismantling a hay track in the barn when it gave way and he fell to his death. In 1985 their 11-year-old son Kevin was killed riding a minibike in a gravel bit at Birnam.
John and Shirley Mansfield's son Chris was killed in February, 1983 at the age of 13 years when his snowmobile hit a parked car at Bethesda Hall at the corner of Churchill Line and Bethesda Rd.
In 1985 Karl and Joanne Van Kessel on Bethel Rd. lost their 11-year-old son Kevin, who was riding a minibike in a gravel pit at Birnam.
Ella Capes told of her granddaughter's death in June, 1993. Fifteen year old Susan Main fell into a grain bin while helping her father unload the bin of corn. despite the efforts of police, firemen and friends, it took more than an hour to pull Susan out. she died the next day. She was the daughter of Philip and Shirley Main, farmers on the Egremont Rd. east of the Forest Townline.
Another farm accident, in December 1993, occurred when Dale Wilson, aged 39 years, was ploughing near a ditch on his Kingscourt Rd. farm. His tractor rolled over, pinning him underneath. His widow Ellen related this tragedy.
The Watford Guide-Advocate reported another farm mishap that took place on the farm of Joe and Connie Van Aert in 1996. Their son Mark Andrew was playing outside the barn while his father Joe Jr. was doing chores. When his father checked on Mark, he discovered him pinned under a concrete hog feeder. Upon arrival at Strathroy Middlesex General Hospital Mark was pronounced dead due to head and chest injuries. Mark had just started Junior Kindergarten at St. Peter Canisius Separate School in Watford.
Other
Helen (Mrs. Clayton) Bryson of Watford tells about losing their 35-year-old son Terry in February, 1998, while snowmobiling at a hunting camp near North Bay. Terry lived east of Village, across from Central School.
John Charles Henderson, known as "Chuck", was killed in 2004 at the age of 58 years. Owner of McKenzie and Henderson Trucking Ltd. near Arkona, his main business was hauling gravel. The accident happened near Dutton while he was checking out a large culvert. The culvert "let loose" and the large gush of water drowned him.
Julie Geerts told how Leo Straatman of the Egremont Rd., husband of Lina, was killed while he and his brother-in-law, Frank Verellen of Ridgetown, were flying a helicopter back to Blenheim from California in 2006. The crash occurred in a remote California desert.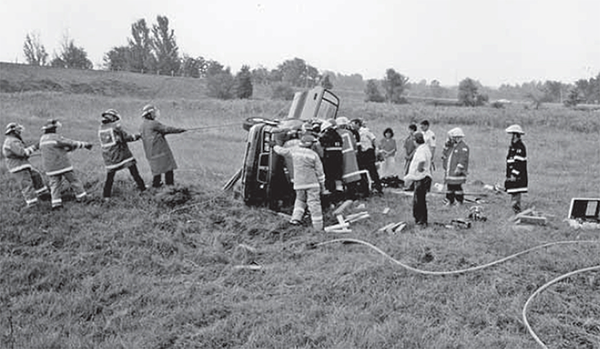 Warwick Fire Department in practice: The volunteer fire departments have routine training sessions to keep them ready for any kind of accidents. Here they are learning about using equipment needed in case of auto accidents. Courtesy P Ferwerda.
Automobile accidents are more commonly in the news. The following are some examples. Kenneth Vance of Forest related how his 19-year-old brother Blake was killed in March, 1936 in a car rollover on Townsend Line west of Arkona. The unpaved frozen road was full of ruts then and it was easy to lose control. Blake was the son of Gordon and Winnifred Vance, who operated the grocery store at Birnam for years.
Margaret Roder of Arkona told of the dreadful car and gravel truck accident at the corner of Hickory Creek Line and Elarton Rd. on August 11, 1965, in which her son was killed. Roberta Watson of Hungry Hollow was driving her daughter Kathleen, Allan and Margaret Roder's son Allan Jr., and Arnold and Mildred's Eastman's son Kenneth, all of the Arkona area, to Forest for accordion lessons. All four were killed; the young people were all 14 years old.
Lucy Bryson told about her in-laws, Asahel and Winnifred Bryson, being killed in August 1967. The accident happened in a heavy rain storm, just east of Nauvoo Rd. between Jim Williams' gas station and Harold Cooper's residence. It was a two-car head-on accident. The other car was from the United States.
Elsie Couwenberg told of the death of her husband, John Peters, age 23. He was killed in October, 1967, on the Egremont Rd. east of Arkona Rd. John's pickup ran into the back of a transport which was stopped behind a school bus picking up children.
Joanne Caris reported how her husband Theo's brother Matthew Caris Jr., 25 years of age, was killed by a drunk driver in June 1970, south of Watford on Hwy 79. Matthew was the son of Mr. and Mrs. Matthew Caris Sr. who lived at the corner of Bethel Rd. and Brickyard Line.
Chuck Hollingsworth told about the accident in which his 36-year-old brother Jim was killed in March 1974. He was driving a transport and was in a collision with a train in Mount Brydges.
Carol Main related how her 24-year-old sister Donna Grosscurt was killed in a two-vehicle accident in June, 1975. It happened at Zion Line and Sexton Rd. when a large cement truck hit her vehicle.
Viola White of Arkona related how her mother and father, John and Marie Pedden, were killed instantly in an auto accident on Hwy 22 east of Arkona Rd. during a blizzard on March 14, 1979. They had been to a funeral in Strathroy and were very close to home. John was the Reeve of Twp. and had served the public for many years.
John and Pat Millier, who live on Zion Line at Hwy 22, told about their 16-year-old daughter Brenda being killed in a two car accident at Hwy 80 and Nauvoo Rd. in November 1979.
Margaret Roder mentioned Bob Stephenson of Arkona, who was married to Joan Meadows. He was killed when his vehicle hit a tree on Hwy 22 just east of the Lambton-Middlesex Townline.
Maxine Miner related the accident of Jerry and Terina Richardson and their children, 13-year-old Jerry Jr. and 8 month old Quincey, who were killed on the way to church in Goderich in 1982. They were hit by a Department of Highways truck spreading salt during a blizzard. Jerry was the son of Elgin and Ethel Richardson of Birnam Line.
In 1985 Ron and Mary Mansfield lost their 19-year-old son Scott in a car and transport accident in Toronto. Scott's aunt Yvonne Bryce related this accident.
Connie Steven related a two-car accident in which Catherine Lynn (Evans) Evans was killed. Cathy, daughter of Larry and Patricia Evans of Forest, was the wife of Eugene Evans of Arkona and daughter-in-law of Kenneth and Barbara Evans. This accident was at the corner of the Nauvoo Rd. and Egremont Rd. in February, 1986. Cathy, a 21-year-old registered nurse, was on her way to work at the Watford Nursing Home.
Dean G. C. Ferguson's death was reported in the Sarnia Observer. Dean, son of Glen and Patricia Ferguson of the Egremont Rd., was riding his motorcycle on the Egremont Rd. east of Nauvoo Rd. on August 5, 1993. He was on his way home from a family get-together when he collided with a car backing out of a driveway.
Nelson and Mary Wilcox of Watford told about their daughter Angeline (Angie) being killed in a one-car rollover north of Forest in June 1995, at the age of 18 years.
The Watford Guide-Advocate records the car accident that killed 16-year-old Susan Van Lieshout in 1997. She was the daughter of Harry and Monique Van Lieshout. The accident happened in West Williams Twp., with the car going out of control, striking a culvert and rolling several times. There were five other youths in the car but only Susan was killed.
In 2002, nine-year-old Riley Christian Van Loon, son of John and Jill (Runnalls) Van Loon and brother of Nicolas, was killed while crossing the road east of Watford to get the mail from the mail box. When he was returning he stepped out into the path of a car. This tragedy was reported in the Watford Guide-Advocate.
In more recent years several people have been killed on the "Nine Mile" (Hwy 21 between Forest and London Rd.). Julie App was killed in early 2007 on her way to work at the North Lambton Lodge in Forest. She died instantly as her car veered over the centre line and hit an oncoming truck. She and her husband Glen App and two young children lived on a farm on Zion Line. She was the daughter of Leo and Lina Straatman. Another accident took place on Hwy 21 at Hickory Creek Line shortly after. Donald Vaughan, who lived on Hickory Creek Line, collided with another vehicle while he was turning off the highway and was killed instantly.
Fires
Township has encountered many devastating fires over the years since 1832 when the township was surveyed by Peter Carroll. Fires have changed the appearance of the township and the fortunes of its residents in many ways. Some business and industrial fires around the township are noted below.
Arkona
The Arkona Centennial Book states that in 1876 Arkona had a major fire that wiped out a large portion of the business area. It was followed in 1884 by another fire which wiped out three quarters of the stores on the south side of Townsend Line, where Home Hardware is located in 2008. Structures such as the Royal Hotel, McKay Bros. Steam Furniture Factory and Fawcett's banking office were destroyed. The brick block of buildings owned by William Vahey was also destroyed.
The Arkona Cheese Factory was struck by lightning and burned in 1958. In 1968 the old Post Office west of Fuller's Grocery Store in Arkona, on the south side of Townsend Line, burned.
Arkona Feed Mills was later destroyed by fire, along with several other buildings, including Marsh Transport, Lodge Housing and Thompson Shoe Store. This fire was caused by a diesel engine being used to power the mill.
Likewise, Birnam was not spared from fire. In 1918, Oliver Gare's store and most of its contents were destroyed by a fire caused by a gasoline explosion.
Watford
Watford's history records many fires, especially in the early days of the village when buildings were made of wood. Watford's disastrous fire of 1880 wiped out all the stores on the west side of Main St. in the block from Front to Huron St., and severely damaged the buildings on the east side. After a fire in his store in about 1880, druggist W. P. McLaren bought suits for the Watford Volunteer Fire Brigade (also called the Defiance Fire Company) to thank them for their efforts in controlling the blaze. Eventually, in-ground tanks filled with water were installed strategically along Main St., much as fire hydrants are today, to help put out fires. Things improved considerably when bricks were used to build buildings instead of wood.
In 1893 the Watford Public School was completely destroyed by fire, but was rebuilt and reopened in 1894. The Crystal Palace at the East Lambton Fairgrounds, formerly the Drill Hall from Village, was destroyed by fire in 1927. The Crystal Palace was located where the arena stands in 2008.
In August, 1952 the McKinlay Transport Ltd. warehouse and garage burned. The cause of the fire was determined to be sparks from an acetylene torch which came in contact with upholstery. Because the wooden floor of the garage was covered with oil from repairing trucks, the building went up in flames immediately. In 1962 the Canadian National Railway (CNR) freight sheds, a CNR box car, and a great deal of the lumber yard owned by Moffatt and Powell were burned. In August, 1967 the Earl Lyons Enterprises Ltd. slipper and shoe factory, located in the former Watford Armory, was gutted by fire during a severe electrical storm.
Fire destroyed a storage shed adjacent to Searson's sawmill at the southern edge of Watford in March, 1972. The shed contained valuable antique farm machinery that George Searson displayed annually at steam thresher shows. In May of the same year the Watford Arena, located just behind Reid's Hardware Store, was completely destroyed by fire. Damage was estimated at $350,000. The six-alarm fire was started by intruders who had stolen cash, cigars and cigarettes.
Part of the Watford downtown business district, including John Bebingh Footwear and three apartments above the store, were destroyed in July, 1977. As well, the Hodge Pro Hardware Store was damaged. This fire was started when grease from deep-frying French fries exploded in one of the upstairs apartments.
On May 9, 1979, a Watford landmark, the Roche Hotel, was destroyed by fire. Elmer (Smokey) Goodhand, a permanent resident of the hotel, was trapped on the second floor and unable to escape.
In some cases arson was suspected. There was a suspicious $50,000 fire at a Watford warehouse on December 7, 1992. Later that month Danny's Pizza and a family residence above the business, on the corner of Main and Ontario St., were destroyed by fire. Other fires reported in Watford around that time were at Acton's Service Centre, MidTown Convenience, Moffatt and Powell, the Imperial Poultry Warehouse and Lakeside Grain and Feed.
The Volunteer Fire Department was started in 1953. Over the years, both their duties and equipment have changed. In the early years they attended barn and house fires. Currently they are called to more motor vehicle accidents on Hwy 402 than to building fires. Their communication equipment has changed, with each fireman now having a "pager" to inform them immediately when there is a call for help. The department has a "jaws of life" to extricate persons from vehicles, when there is no other way to get them out. Another piece of equipment that is valuable is a thermal imaging camera.
Before the Volunteer Fire Department started, firefighters had to be called from either Forest or Watford. The most outstanding fire in Village was the Maple Grove (Maple Leaf) Hotel, built in 1835, which burned on March 26, 1947. The fire started when an oil stove exploded in Harold Cosens' service station and spread into his recently completed residence and to the hotel. Watford Fire Department was called to help, but were unable to help as snow blocked the highway. Forest Fire Department was forced to follow the snow plow out to the fire, arriving an hour after the buildings were destroyed.
Another fire that has been remembered in Village is Les McKay's sawmill, built in 1925 on the west side of Nine Sideroad, south of Hwy 7, across the road from the old Roman Catholic Cemetery. The mill burned down on November 11, 1944. Instead of rebuilding, a portable sawmill was moved onto Mr. McKay's property south of his residence and north of Hwy 7 in 1945.
Other major fires in the vicinity that affected people in Twp. include the Forest Basket Factory that burned in May, 1934 and the September, 1974 fire in which the canning factory building in Forest burned to the ground. Both these factories had employed many residents.
Barn Fires
Other casualties of fires were barns. The Watford Guide-Advocate reported the fire of October, 1927, when William G. Hall's barns on Brickyard Line west of Arkona Rd. burned. His barns, completely filled with harvested crops, were destroyed. Lost in the blaze were 4,000 bushels of grain, a large hog pen, an implement shed and hundreds of tons of hay and ensilage. The 90 head of stock and the farm implements were saved by neighbours.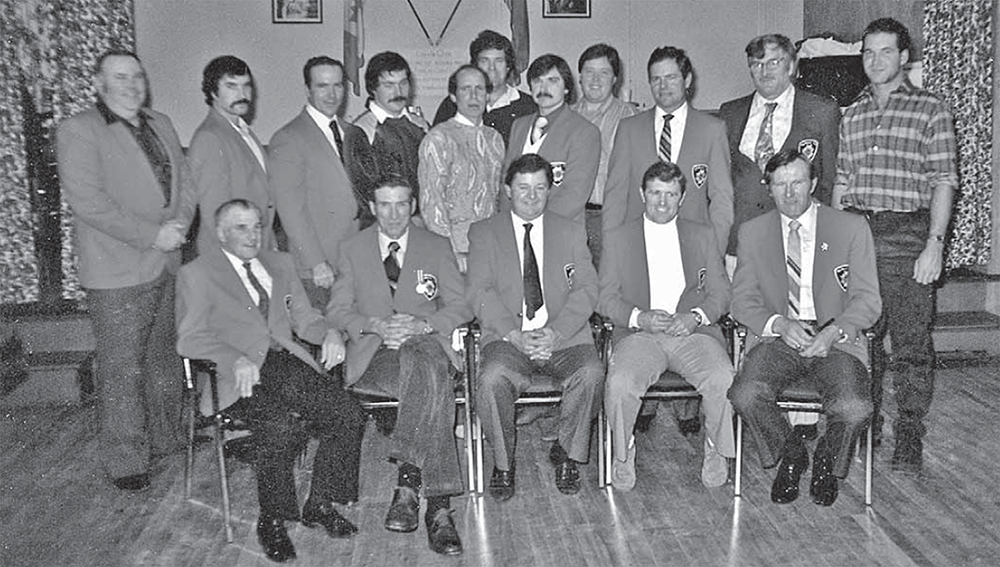 Warwick Fire Department, c. 1985. Standing: Laverne Goodhill, Randy McEwen, Glen Ferguson, Roger Sitlington, Philip Main, Don MacKenzie, Tom Pembleton, Brad Goodhill, George Demers, Fred Coates, Allan Vansteenkiste. Seated: Ken Inman, Eldon Minielly, Fire Chief Peter Ferwerda, Lawrence Zavitz, John Van Diepen. Courtesy P Ferwerda.
In 1953 Mervin and Merle Mansfield on Churchill Line lost their barns, cattle and chickens due to a spark from a pump motor. Jack and Marion Shea in the same neighbourhood also lost a barn to fire. Another neighbour, Clayton Johnson, lost his barns to fire, rebuilt and then a tornado in 1953 took the barns again.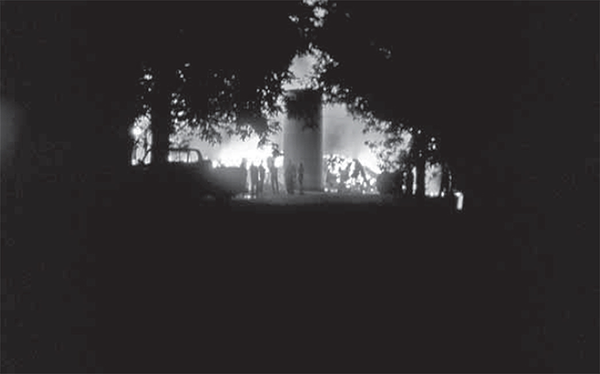 Barn fire: Fires such as this have changed the landscape of Twp. and are an unfortunate part of our history. Courtesy P Janes.
Basil and Nancy Steven on the Egremont Rd. west of Village have had two barn fires. The first was in July, 1984. No animals were inside and all that was lost was the contents of the dairy barn, although their silo had to be demolished because of the damage. The fire may have been caused by a hot stone embedded in the straw being blown into the barn, or the straw may have been too close to the light bulb at the roof of the barn. The Stevens rebuilt. In December, 2004 their dairy barns, along with the cattle, were destroyed in the middle of the night. Fortunately no human lives were lost either time. They have since rebuilt a second time and continue with dairy farming.
Casey and Rena Dirven's barns on Brickyard Line burned in 1987. A large bank barn, a large pig pen, two silos and a tractor were destroyed, along with about 250 pigs. Another 250 pigs were pulled out of the fire. (A bank barn was accessible on two separate levels, either by being built into the side of a hill, or the second level being accessed from a ramp.)
In the Arkona area, fire destroyed a barn which stored turkey feeders and straw on the farm of Art and Janet Roder on 27 Sideroad (Wisbeach Rd.) in 1989.
In 1993 Adrian Kustermans lost his dairy barns on Lot 26, Con.1 NER, along with a number of milking cows and calves. That same year Tony and Joanne Rombouts on Lot 28, Con. 5 NER lost two barns and 1000 pigs. Adrienne and Corey Rombouts on Brickyard Line lost their barns and Frank and Sandy Dortmans on the same road east of Nauvoo Rd. lost theirs as well.
House Fires
Many homes have burned over the years as well. Some of them include:
the Kingstone homestead on the 2nd Line south (Zion Line at the corner of Elarton Rd.) in March, 1932
George and Elsie Janes' home on Brickyard Line, 1949
Lorne and Marjorie Willoughby's home on Lot 14, Con. l NER in February, 1961
Donald and Karen Duncan's home on Bethel Rd. in February, 1967
Bill and Florence Adams' home on the Egremont Rd. east of Quaker Rd., in 1982
the residence of Bruce and Brenda Miner on Brickyard Line in January, 1983
Greg Goodhill's home on Brickyard Line in the winter of 1999
the Rombouts' home on the former Chester Orr farm east of Arkona Rd. on Brickyard Line
the homes of Henry and Nellie Veens on Bethesda Rd. SER and Terry Sleger at 6779 London Rd. both burned during the week of February 20, 1997
Murders
Murders seldom happen in small-town communities, but one was reported briefly in a local newspaper (name and date unknown). In a story headlined "Murrell and Topping Hanged This Morning", it was reported that Clarence Topping of Strathroy "fired two bullets into the body of his eighteen year old sweetheart Geraldine Durstan of Watford because she refused to marry him." He paid for the crime in the London Jail Yard.
The Watford Murder Coroner's Inquest. (By Telegraph from our own Correspondent.) Watford, Ont., Aug. 25, Joseph Robertson, who was shot by William Barton on Wednesday last, died yesterday evening about 8 o'clock. An inquest was held here to-day, before Coroner Harvey, on the body of the deceased. The jurymen were sworn at 8 o'clock this morning, and chose Dr. Sommerville to conduct the post mortem examination, assisted by Dr. Boyd. Thirteen witnesses gave evidence upon oath. James Sommerville, M. D., said: I made a post mortem examination of the body this a.m., and found a wound externally about one inch below the umbilicus, and a little to the right found the ball. It had taken an upward and outward direction, but had not wounded any of the intestines. It passed through the right lobe of the liver from below, upwards, then through the diaphram between the castal and pectoral pleura, and, without wounding the lung, had lodged in the intercostal muscles, be tween the ninth and tenth rib. (He showed the ball which was extracted.) I saw Robertson about an hour after the injury had been received, and with other medical men I saw him at intervals of a few hours until his death. Everything was done that could be done for him. I believe the injury above described was the cause of his death. All the other organs of the body were in a healthy state. Drs. Boyd and Hutchison were also sworn, and corroborated Dr. Sommerville's statement. The evidence being so clear, the jury returned in a few minutes with a verdict of guilty of willful murder against William Barton. SOURCE: Globe, Toronto, August 26, 1871
Another murder was recorded in the April 10, 1876 Council minutes:
Whereas Patrick Monaghan was foully and feloniously murdered in his own house while defending his home and whereas Edwin Parker, Richard Wilson, William Auld, Peter Graham M.P.P. and 54 others have petitioned this Council to offer a reward for the apprehension and conviction of the party or parties who committed the foul deed, be it moved by Mr. Dewar seconded by Mr. Smith that this Council offer the sum of two hundred dollars to be paid to the party or parties who shall give such information as that lead to the conviction of the party or parties who were guilty of the said murder.
A murder widely reported in the Watford Guide- Advocate in March, 1889 was that of Mary Jane Marshall. As she walked home from Providence Methodist Church with a group of friends including Frank Williams, Albert Wilson asked if he could accompany her home. She replied, "No, not tonight," and Wilson immediately pulled a revolver from his pocket and shot her in the head. He then took off across the fields, set the Marshalls' straw stack ablaze, and made his escape by walking along the railroad tracks.
Wilson was finally captured four years later in Michigan, tried for murder in Sarnia, Ont., and acquitted. He spent the rest of his life at the Toronto Asylum for the Insane. Wilson died in 1945. Frank Williams, thought to be the third party in the love triangle, died in 1891.
Diseases
Although the 1800s and early 1900s were spared the violent accidental deaths of later periods, disease was another story. Modern medicine has changed the outcome of many diseases; many that were once deadly are now rare. However, over the years many people have died of diseases that were either unknown or undiagnosed when they struck. Some of these were rheumatic fever, scarlet fever, typhoid fever, small pox, influenza, diphtheria and polio (once known as infantile paralysis). This account is representative of a how a few of these diseases affected life in Twp. at various periods in the community's history.
Typhoid Fever
Gerald Herbert remembered his grandfather Kelly's family on the Egremont Rd. losing three members of their family within 25 days in 1871. Two brothers cutting wood contracted typhoid fever and died after they apparently drank water out of the sloughs in the bush. A sister who had come home to look after them died of the same disease. In 1890 the Kersey family lost their mother Susannah (Clark) and two of her children, Edward and Jane, to typhoid fever, within a month. The Watford Guide-Advocate reported in 1929 that Francis Clark, brother of Susannah (Clark) Kersey, died of typhoid fever in London. Maxine Miner told of an aunt whose brother contacted typhoid fever and died in 1894.
Influenza
Influenza took a heavy toll over the years. During the period between 1857 and 1859 there was a worldwide outbreak of influenza. In 1873 there was another severe outbreak of influenza in North America which took many residents of Twp. Again in 1912 a flu epidemic took many people. Many families lit small incense lamps and burned sulphur candles in an attempt to ward off or recover from this disease.
Finger Nail Omens (1895)
Cut them on Monday, cut them for news.
Cut them on Tuesday, a pair of new shoes
Cut them on Wednesday, cut them for health.
Cut them on Thursday, cut them for wealth.
Cut them on Friday, cut them for woe.
Cut them on Saturday, a journey to go
Cut them on Sunday, your safety seek.
The devil will have you the rest of the week.
SOURCE: Watford Carnegie Library Cook Book and Local History, 1913–2000, M&T Insta-Print, London, Ont.
In the last year of World War I the "Spanish Flu" broke out around the globe. One fifth of the world's population was infected. The Canadian History News of March, 2006, states that the virus entered the body through the respiratory tract and spread quickly. Some people went to bed and never woke up. This flu was most deadly for people ages 20 to 40. The severity of the attack on people of this age group was unusual for influenza, which is usually a killer of the elderly and young children. The influenza pandemic of 1918–1919 killed more people than the Great War, somewhere between 20 and 40 million people. It has been cited as the most devastating epidemic in recorded world history.
was not spared. Gerald Herbert spoke of a brother and sister who got the flu. Their uncle went to care for them and but the siblings died. The McAlpine family lost two members to the flu in 1919 and 1920. As well, the Catt family lost two members during the same period.
Diphtheria/Scarlet Fever/Rheumatic Fever
In 1894 diphtheria struck. A sister of Maxine Miner's from near Birnam died of diphtheria and is buried in Bethel Cemetery.
Often spreading through a family, a single disease could wipe out an entire family or, as was more common, take some members and leave others untouched. Such is the case with scarlet fever. In March 1875 the wife and two children of Edward Walker died and three Wilson children died the same week in January. All are buried in the Cemetery. Other deaths in 1887–1888 were the two children of Francis and Mary Powell, one five months old and the other fifteen months old. The Forest Standard reported in 1923 that members of the John Taylor family of the 6th Line NER (Hickory Line) were ill with scarlet fever. Closely connected to scarlet fever was rheumatic fever which swept through the township in 1900.
Small Pox
Another disease that was common was smallpox. The SS#16 register shows the school was closed January 14 to January 18, 1918 because of small pox.
Vaccines
While European pioneers inhabited , in Europe great achievements in the creation of vaccines were taking place by scientists such as Edward Jenner (1749–1823) and Louis Pasteur (1822–1895). Jenner introduced a vaccine for smallpox in 1796. In the early 1880s Pasteur founded the science of microbiology and proved that most infectious diseases are caused by micro-organisms. This became known as the "germ theory" of disease. He was the inventor of the process of pasteurization and also developed vaccines for several diseases including rabies. Since then many major diseases have been largely controlled through the use of vaccines. Some vaccines for deadly diseases were discovered as follows:
anti-plague (Bubonic) in 1897
diphtheria in 1923
pertussis in 1926
tuberculosis (BCG) and tetanus in 1927
yellow fever in 1935
injectable polio vaccine (IPV) in 1955
oral polio vaccine (OPV) in 1962
measles in 1964
mumps in 1967
rubella in 1970
hepatitis B in 1981
Although Louis Pasteur had invented the process of pasteurization in the latter part of the 1800s, pasteurization of the milk supply in Ontario did not become compulsory until October 1, 1938, under the Hepburn government. There is no record of how many children died of contaminated milk.
Janet Firman of Forest recalls that
in the 1940s when people had scarlet fever, chicken pox, whooping cough, diphtheria or red measles they were quarantined for a set period. Back then the doctor came out to the home and nailed a poster on the house stating what you had. We were not quarantined for mumps or German measles.
Polio
Canada's first paralytic polio outbreaks were as early as 1910, but between 1927 and 1953 polio was an epidemic. Paralytic polio is caused by a virus that enters the body through the mouth or nose and attacks the central nervous system, causing nerve damage and paralysis. Victims died, were hospitalized for long periods and/or spent time in an iron lung, wheel chair or on crutches.
Rhea (Clark) Nichols' father, Hugh, who lived on the 2nd Line NER (Brickyard Line), contacted polio around 1903 when he was delivering milk, working for an uncle in Detroit. The disease affected one arm from the elbow to the shoulder and one leg from the knee to the hip. Jack Aitken spoke about William Waun, who contracted polio in 1918. William operated a variety store at the corner of Hwy 7 and 18 Sideroad (now Nauvoo and Egremont Rd.). He recovered enough that he could walk with crutches and continue his business.
Noreen (Emery) Croxford, born on the 6th Line NER of Twp. (Hickory Creek Line), tells that she was five years old when she picked up the virus, possibly while at a band tattoo in Thedford in 1953. It affected both of her legs, but the left leg more than the other. She wore a brace until thirteen years of age and during that time she had many surgeries. The vaccine that came out in 1955 was too late to help her. The whole Emery farm was quarantined; the family could not sell milk, cream, eggs or any other farm products. Noreen's grandmother would purchase groceries and leave them at the road, at the end of the lane.
Joyce Starkey tells about her brother Lawrence Levitt's bout with polio. The Levitts lived on the 6th Line NER of . Lawrence contracted the polio virus when he was six months old, in 1913. His mother had taken him on a boat trip and met another woman carrying a fussy baby in a basket. The woman took her baby out of the basket and told Mrs. Levitt she could put her quiet baby in the basket. His polio affected one of his feet, so in the 1960s he had a special shoe made which made walking much easier.
In 1937 it was reported in the Forest Standard that Hazel Tanner (Mrs. Blake Perry), daughter of Mr. and Mrs. Oliver Tanner of the Main Rd. (Egremont Rd.) in Twp., was a victim of infantile paralysis. Other residents who were affected by polio include Susan Priest, daughter of Don and Joan Priest of Watford, and Nelson Coneybeare.
The Watford Guide-Advocate carried an article about Tony Hogervorst in 1994. He had contracted polio in 1958, when he was three years old, while living in Thorndale, Ont. While in isolation for two weeks in a London hospital, he was completely paralyzed and his parents were told that he would never walk again. Tony had received the polio vaccine when he was younger, which did not prevent the disease but may have lessened it for him. After several months in hospital, Tony came home with a back brace and crutches. With much determination and help from his parents and siblings, Tony attended school on crutches. In 1964 the family moved to Twp. where they bought a farm on the Egremont Rd., Con. 1 SER. Tony continued to have operations and wore braces while attending high school and university. In the mid 1960s Tony was "Timmy" for the Watford Rotary Club's Easter Seal Campaign and also for Southwestern Ontario. Tony is now a very active vegetable grower in the township.
Diabetes
Diabetes is a disease that is currently affecting 's population immensely. Diabetes has been declared the universe's worst disease of the 20th century. It is partially the result of the current lifestyle, especially obesity. It affects children, young people and adults. Diabetes can cause serious complications such as vision problems, heart disease, strokes, and kidney failure. Many current residents in Twp. are now being treated for either Type 1 or Type 2 diabetes. In 2008 promotional campaigns making people aware of the symptoms and causes of diabetes are common in the media.
Susan Moffatt: Susan Moffatt (1972–1993) was the daughter of Keith and Marian Moffatt of Watford. She was born with a congenital disability called spina bifi da which affected the control of her lower extremities and forced her to wear special leg braces for support. She could go short distances unaided, but often used crutches or a wheelchair. Her fi rst surgery was ten hours after she was born and by age twelve she had endured 22 more operations to help improve her condition. Susan loved to ride horseback. Through much perseverance and encouragement from her family she mastered the sport. Besides riding, she loved attending summer camp for two weeks each year at Woodeden Camp near London. This camp is sponsored by the Easter Seals and Rotary Club. Susan overcame her handicap with a positive outlook on life in general. She was able to express to others how it felt to be born with a handicap and how, with lots of help from her parents, doctors, teachers, and friends, she managed to accept life as it was and make the best of every single day. She lived every day to the fullest and loved to tell everyone they should also. Susan always spoke honestly and passionately about her disability, the extensive therapy required and the support she received through Easter Seals. The Watford Rotary Club's Easter Seal Fund "Tammy" for their 1983 fundraiser was Susan Moffatt. In 1984, she was the "Tammy" for the province-wide campaign. An exciting opportunity for her was to meet with Prime Minister Trudeau and other dignitaries in Ottawa. Susan died at the age of 21. SOURCE: various newspaper clippings from 1983 and 1984
Necrotizing fasciitis

Another rare disease that first appeared in 1783 in France, and occurred from time to time in the nineteenth and twentieth century, is necrotizing fasciitis or "flesh-eating disease." Although rare, it has become somewhat more common since the 1980s. The disease got its nickname as it quickly spreads through human tissue, destroying it at a rate of almost three centimetres per hour. In some cases death can occur within 18 hours. Necrotizing fasciitis is caused by a number of different bacteria; one of them is the Group A streptococcus. Twenty-two year-old Diane Ferguson, a student in her last year of studies at the University of British Columbia died of this disease in 1997. Diane was the daughter of Glen and Pat Ferguson of the Egremont Rd. Her illness started with a painful swollen big toe; she died within a very few days.
Whooping cough, scarlet fever, small pox, mumps, typhoid fever, diphtheria and measles are now considered to be diseases of the past, because we have vaccinations for them. But in 2008 these diseases have been replaced by diseases such as the Norwalk virus, Severe Acute Respiratory Syndrome (SARS), Avian (Bird) Flu and the West Nile virus. Cancer and autism are also more common. Many of the current diseases appear to be related to our environment. As in the past, there continue to be many challenges to scientists and to the medical profession.

Clearing the road during the winter. Courtesy L Bryson.
---
---
Sources
These links were used at the time of publishing in 2008. Some links may have changed or may no longer be active.
Most of the information in this chapter has come from personal telephone calls and memories. Some resources such as John Smith's Memories of Village, Forest Centennial 1859–1959, the Watford Guide-Advocate and the Forest Standard have also been used. Information about Edward Jenner, Louis Pasteur, polio, diabetes and vaccinations has come from Internet sources, including:
These clippings are from the February 23, 1883 issue of The Guide-News "The Official paper of the County". Warwick Township was well served by the medical profession. Courtesy G Pierce.