Home Children (Little Immigrants)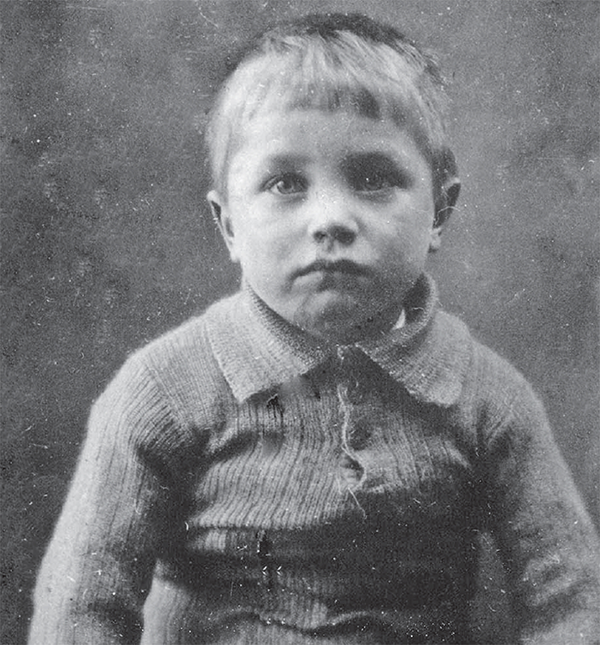 Cyril Hewitt, age 4. Courtesy C Hewitt.
by Mary Janes
For many years the arrival of "Home" children remained wrapped in mystery. Only in recent years have many of these stories been told, and with the records made available families have now been able to learn more about their roots. It is estimated that up to 11 percent of Canada's population is made up of Home children and their descendants.
Churches and philanthropic organizations like Barnardo's and the William Quarrier Home Children Association, motivated by social and economic conditions, sent orphaned, abandoned and pauper children abroad to the British colonies, Canada and Australia in particular. These organizations believed the children would have a better chance at life in rural Canada. At the same time many Canadian families welcomed them as a cheap source of labour and domestic help.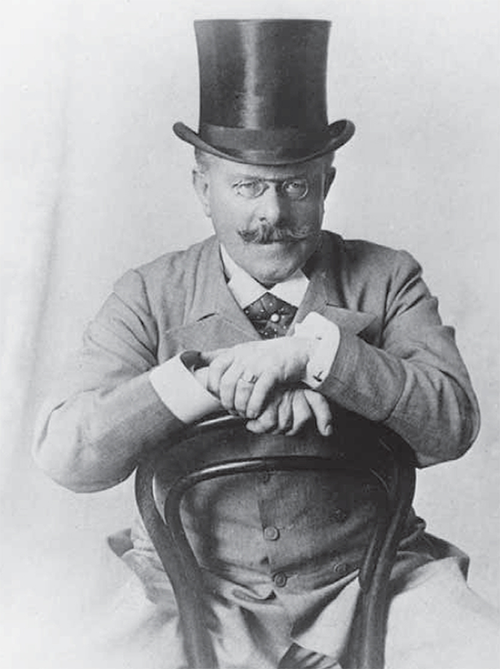 Dr. Thomas Barnardo. Courtesy B Falconer.
The children were sent by ship to distributing homes in Canada, then sent on to farmers in the area. Some were poorly treated, even abused; others experienced a much better life than they ever would have had in the slums of England.
The best-known crusader for rescuing children off the streets was Dr. Thomas Barnardo. He opened his first hostel for boys at 18 Stepney Causeway in London in 1870; his first hostel for girls was opened in 1873. As the hostels developed, he provided educational facilities as well as training in trades for the children. Most children were sent abroad at age 14.
A similar organization, the William Quarrier Home Children Association, was set up in Scotland. It relocated more than 7,000 young people from Scotland to Canada between 1870 and 1936.
Although there were other similar organizations in Great Britain, the Barnardo and Quarrier Homes appear to have been the origins of many of the Home children in Twp. Here are some of their stories, as related by local residents.
Dave Wilson's Memories
Dave Wilson of Watford spoke of his father, Norman, who was a Barnardo boy. Dave's grandmother died when Norman was born in 1898, leaving his grandfather with three young children, two boys and a girl that he could not look after. They were sent to a Barnardo Home. Being a heavy smoker Dave's grandfather had developed emphysema and went to South Africa for his health, but died there. The children were sent off to Canada around 1905, when Norman was six or seven. Although not placed in the same homes, the siblings stayed in touch. Norm's brother settled in Stratford and his sister lived near Brampton. She became ill in her 20s and passed away.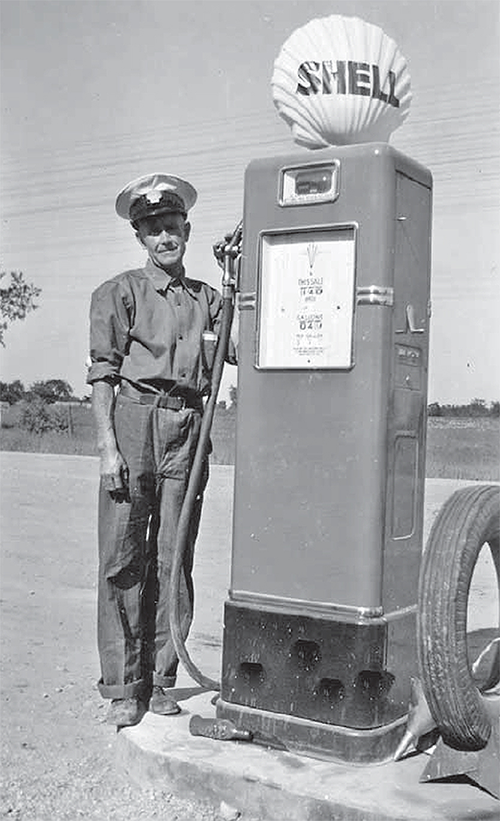 Norman Wilson, 1947. Courtesy D Wilson.
Norman was sent to a lady in Northern Ontario. In later years he never spoke of his experience much, saying only that she was not always the most pleasant woman. When he was of age he went to Brampton to work on a dairy farm and in greenhouses. Later he moved to Strathroy and worked for one of the Searson families.
Arnold Watson's Memories
Arnold Watson of Wisbeach recalled several of the children who lived at his home during his youth. He told about Jack Whitepost.
I was four or five years old and a boy came from England, name of Jack Whitepost. He came to our place, or was sent. I presume he was placed there by some person. Father hired him. Had him there for, I think, a year … he came back to visit very regularly. He eventually got married and moved to Guelph. The last time we saw him was about ten years ago. Dad got him through the Barnardo Home, how ever they did it at that time. He was a farm hand. He helped with the farming, milked cows and fed chickens. The pay was pretty small at that time; there was a set amount guaranteed. All the hired men slept up in the bedroom. He ate his meals with the family. He was about 15 or 16 years old when he came. He turned out to be a very productive citizen of this country.
Jack told us that they had found him in England beside a white post and that was how he got his name. He never knew when his birthday was, or no idea of who his parents were. They told him they thought his birthday was around Christmas time, so that was when he celebrated his birthday.
Another Home child Arnold remembered was Stan Rider.
Stan was 16 when he came to our place and I was eight years old. He came in 1929. His father had been killed in the first war, and he had his mother and a sister and a brother. There was some kind of a government supervised arrangement, where the mother got support until the children were 16. After the children were 16, the children were not supported anymore. The sister came to Timmins first and worked for a Jewish family. The next year Stan came to our place. I remember coming home from school and wondering where the new boy was. Dad had him out splitting wood. He stayed for three years at our place and during that time he had to send so much money back to whoever had looked after and sent them over here. It was a three year contract, and maybe they gave him money to come here, and he had to pay it back over the three years. …
At the end of three years, Stan left the farm. He had served his time. He moved to Petrolia and J. J. Edwards put him through the rest of his high schooling and sent him to Huron College in London, where he became an Anglican minister. We kept track of the family. Stan always wrote. Stan was a minister in several places and eventually went to Winnipeg. When the Red River flooded in 1939, he was working out there and got pneumonia and died.
Arnold continued:
I know several other men that had come from England. There were three of them that came out all together. Jack Fry and Bill Cox and a Sullivan. They all stayed and lived in the area after coming out to work here. There were a lot of boys that came out to from England. They would work on the threshing gangs. Tom Craven and Sam Lees and Sid Jones were three of them. Some were very helpful and some were quite useless.
Agnes Karr's Memories
The Women's Institute Tweedsmuir History has recorded an interview with Agnes (Brandon) Karr done by Kate Connolly in the 1920s. Agnes Karr never had boys of her own but she:
raised several Home boys, and I loved them like my own, I think. They're all grown up now and doing for themselves, so I can't complain. They come to visit me sometimes, and it always does me good to see them. I like to think I've been not altogether useless in the world.
Lew McGregor's Memories
Tom Dougherty was a Home boy that Lew McGregor remembered. He was a little Irish fellow who worked for Lew's father for years.
He had come over here as a "Home boy" and was very badly treated [in his first home in Canada]. He had to sleep in the barn and [was] fed at the back door like you'd feed a dog. But very smart around machinery and horses and stuff …. and finally [he'd] get the harness on them and bring them up to the stone boat and get them trained to get them to draw like that and he broke all them horses. … There was a lot of Home children around Forest that I knew. Tom went to Detroit … what a lot of the war fellows did, they went there.
Alfred Johnson's Story
Alfred Johnson was a Home child as well, but he came to Canada through the Annie Macpherson Homes. He arrived in Quebec City aboard the S. S. Tunisia in 1911, then was put on a train for Thedford. Chester Orr met him at the train station and took him to his farm in the Watford area. Barnardo's records (where Macpherson Home records were kept after 1925) indicate that Alfred attended school for nine years and that he received $20 a month for working on the farm while attending school. The records also show that he went to Sunday school regularly. In 1915, Mr. Orr and Alfred agreed that he liked living at the Orr farm and wanted to stay.
Evelyn Arnold's Memories
Evelyn Arnold recorded the story of her grandmother. Mary Reid was born in Scotland and came to Canada as a Quarrier Home child in about 1895, as a little girl of four or five. She was adopted by Philip and Barbara Shaver, who moved to Watford in the 1885 to 1900 era.
Trunk of Mary Reid Shaver. Courtesy E Arnold.
Many children volunteered to come to Canada but found it overwhelming with the cold climate and the expectations of their employers, as many of them had come from the streets of London and had never seen farm animals, let alone knew anything about farming. Once they came to Canada many were regarded as inferior and suffered prejudices because of being Home children.
Debra Rose's Memories
Debra (Hughes) Rose has written about the experiences of her grandfather and his siblings in a booklet called Are We Going Home Soon, Bill? Bill and Harry Hughes became Home Boys and part of the emigration to Canada in 1895. Bill was eight years old and Harry only four when they came into care. Their mother, Alice Caroline Hughes, had passed away the year before, leaving a husband and seven children. Their father, Richard, was in poor health and died shortly after in the Workhouse, an institution for the sick and destitute.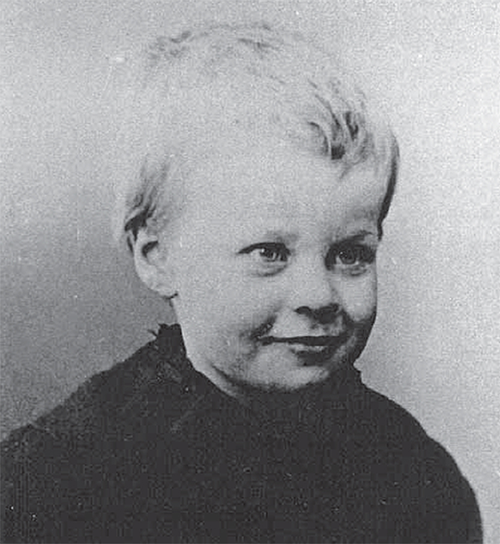 Harry H. Hughes, age 4. Courtesy D Rose.
Richard's mother had been caring for the children, of which the two oldest were earning small wages, but she could barely feed the family. She agreed to turn over her middle four grandchildren to childcare organizations. Two girls went to a Girls' Village Home and the two boys to a Barnardo Receiving House from where, within a few months, they were bound for Canada.
Bill and Harry arrived in Portland, Maine aboard the S.S. Parisian. They came to Toronto to a Barnardo Receiving House and then they were separated and sent to different parts of Ontario. Harry, only four, went to live with a family in Bracebridge in foster care and remained there until he was old enough to work on a farm. In 1907 Harry began work, first in a factory, later as a hired hand. Harry eventually moved to the Forest area, first farming outside of town and then moving to Main St. where he remained until he died in 1984. His wife Maggie passed away one year later. They had seven children and twenty-two grandchildren.
Bill Hughes worked for farmers in the Gladstone area and eventually bought a farm. Bill and his wife Lottie had one daughter. After Lottie passed away Harry invited Bill to come to Forest and live with him and Maggie. In 1924 Bill and Harry were part of the newly organized Minstrel Show in Forest, singing barbershop style music and telling jokes.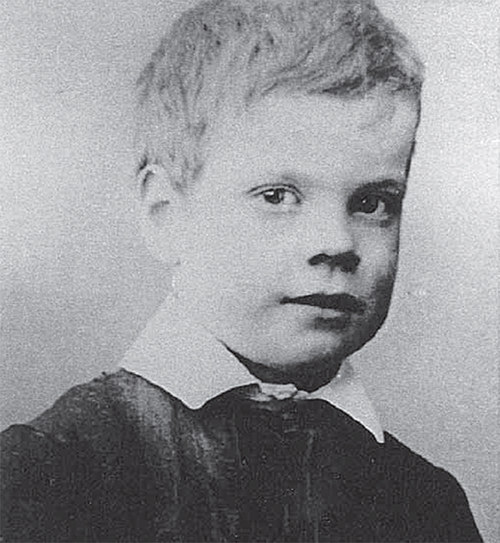 William Hughes, age 8. Courtesy D Rose.
Cy Hewitt's Story
Cyril Hewitt was one of the last Home children to come to Canada in 1938. In February 2007 he came in person from his home in Sarnia to tell his story to the Township History Committee.
Cyril was born in 1924 in Yorkshire, England. He did not know the reason, but at the age of four he and his three older brothers where placed in Dr. Barnardo's Garden City in Essex, England. Cyril lived in and was schooled at Garden City for ten years. He was sent out into the world when he reached the age of 14.
Garden City housed approximately 800 boys and staff. There was also a hospital on the grounds. While Cyril was at Garden City from 1928 to 1938, it consisted of twenty-one "cottages" which were two-storey houses that held thirty-five boys each. Each house was overseen by a matron and her assistant who had their own bedrooms. The boys slept in two dormitories of fourteen boys each, with a third room for the seven youngest boys. Each had his own single bed. Rules and chores of the house were strictly enforced.
As part of their daily routine, the boys were paraded to the dining hall, which was a separate building, then directed to exercise drills and to the school within the grounds. Some boys attended the outside co-ed school in the community, and they were sent to and from that twice a day. Discipline was first priority: Cyril had strict teachers. The children were always required to eat meals in strict silence.
Cy Hewitt's trunk. Courtesy C Hewitt.
Cy made the gymnastics team and participated in performances at the Royal Albert Hall, London, in charity-related shows for the Barnardo Homes. Choirs and drill teams from other Home establishments would also attend. These were enjoyable events for Cyril. The Garden City had an Olympic-sized swimming pool and all the boys were taught to swim and high-dive. Every summer there was a sports day and medals were awarded. There were inter-house soccer and cricket teams.
In 1938 when Cyril turned 14 he was given the opportunity to go to Canada and he accepted. A number of doctors checked his health and, before leaving in June, he was taken to say goodbye to his parents in Yorkshire. The visit with his mother and father was uneventful as he felt nothing towards them, having grown up within a "family" at Garden City.
The small group of youths, along with a chaperone, sailed on the steamship The Empress of Australia. It was a five-day crossing to Quebec City. Cyril had with him a large tin trunk full of necessities for his life in Canada. From Quebec City he was taken by train to the Barnardo Head Office in Toronto. The home's representative, George Black, took Cyril and three other boys to their new placements; his was in the Bismarck area (Niagara Region). He was asked to sign a document which indentured him for three years. The set wage was $87 per year, which would be sent in trust to the Barnardo Home Office, less any expenses Cyril might incur. He would be able to access his wages at the age of 21.
Cy Hewitt on Empress of Australia, August 4, 1938: Cy is in the centre, to the left of the woman. There are two chaperones with the children. Courtesy C Hewitt.
Because he had not been raised on a farm, Cyril did not know how to plough or do many of the other farm chores. He was homesick and lonely. Treated as the hired hand, whenever guests arrived he was expected to make himself scarce. Luckily the farmer's brother and his family lived down the road. Cy was able to socialize with them and experience a family atmosphere there.
After three years at his first placement, he was sent by train to Watford and picked up by a kindly man and taken to a farm near Arkona. Coincidentally another chum had arrived in the Arkona area in 1939 with the last Barnardo group and he was one sideroad over from where Cyril was. This was Dennis G. Lunn and they saw each other often, as the mother of the farmer Dennis worked for lived next door to the place were Cyril worked.
Cy Hewitt on Hickory Creek Rd., 1942. Courtesy C Hewitt.
After that indenture, Cyril started working on his own for different farmers and eventually moved to Sarnia where he first started working for Imperial Oil. He then moved to Shell Canada where he remained for 32 years, taking early retirement in 1984. He and his wife raised a son and daughter. Cyril credits the Barnardo Home for his self-discipline in later life.
Bruce Falconer's Story
Another story that the Committee heard during its research was that of Bruce Falconer of Forest, who started digging into his roots after his father, Camilla Falconer, had died. Bruce was aware that his father talked very little about his childhood; he also realized he had asked his father very little about his past. Bruce has written the following about his search for his roots.
Nearly all of us are guilty of one common fault. We become too immersed in our own lives to pay attention to anything outside of our immediate responsibilities. After our parents and aunts and uncles are gone it is often too late to ask questions regarding our heritage.
It wasn't until my daughter wanted to do a high school project on her grandfather that I realized how little I knew of his childhood. My daughter and I interviewed him one evening and I, as well as my daughter, learned a lot that was previously unknown to anyone in the family. When my daughter decided that she had enough information to complete her essay, we stopped asking questions.
Contents of Barnardo Boy's Trunk: (all items supplied by Barnardo Home) 1 peaked cap 1 suit 1 pr. rubber soled boots 1 pr. slippers 2 long nightshirts 2 pr. woollen socks 1 pr. overalls 1 set light underwear 2 shirts 2 pocket handkerchiefs 1 pr. braces and 1 belt 1 ball wool for sock repairs Needles, thread, boot brush 1 Bible 1 Traveller's Guide 1 New Testament 1 Pilgrims Progress (In the list of a girl's trunk's contents there is mention of stationery, brush, comb, toothpaste, boot laces, 1 pr. oxfords, small towels, gloves and Hymn book as well as items of clothing. It is presumed the boys would have brought these items with them as well.) From Barnardo Children in Canada, Gail H. Corbett, Woodland Publishing, Peterborough, 1981, Appendix 124.
Throughout my childhood years I was aware that my father had been born in England and came to Canada as a teenager. He had worked on a farm until he was able to purchase a farm of his own. I often heard reference made to letters he received from England each year but sadly I never took any interest in them. After my father passed away I made up an obituary notice giving a short history of my father's life as I knew it.
My wife suggested I should send a copy of this notice to the people in England that my father had been writing to. I received a letter from one of the families in England I had written to. They thanked me for taking the time to write them and send them a copy of the obituary notice. In the letter they corrected me on one detail. In the notice I had said that my father had been raised by his grandmother because I had heard him often mention Grandma Dunnett. The gentleman in England said that was impossible, because she was his grandmother. I promptly sent a letter back to England asking who my father was.
I found out my father had lived with this lady until he was ten years of age, then moved to Wales. The gentleman in England, Mr. Ted Wilson, asked some of his relatives and there was one lady who remembered him. She had grown up with him in a village called Otley but she didn't know anything about his parents. I now realized these people weren't related to my father, so who was he?
Mr. Wilson was working with the people at the Barnardo agency in London, England, to arrange a meeting with me. Three months after my father had passed away I was walking through the front doors of the building housing the answers of my father's origin. The Barnardo agency is located in Barkingside, a suburb of London, and is named after its founder Dr. Thomas Barnardo."
[Here I learned that …] my father had been born Sept. 12, 1917 in London, England. His mother Frances Falconer gave him up shortly after birth and he was sent to be in the care of Angellina Dunnett in the village of Otley. My father remained in her care, going to the local school and the local church until he reached the age of 10 when it was determined he should be returned to his biological mother who had since married. She now resided in Pontypool, Wales with her husband Mr. Price, his three children through a previous marriage and their daughter. Her husband did not want the burden of another mouth to feed, so he gave his wife the ultimatum of either ending their marriage or getting rid of the boy.
The situation was brought to the attention of the Barnardo agency which stepped in and removed my father from this situation. At the age of 12 he was … placed in a boys' home run by the Barnardo agency. An opportunity to receive naval training came up and dad jumped at the opportunity but was rejected due to poor eyesight.
Not wanting to stay where he was, he chose to accept the opportunity to go to Canada. He was transferred to a school in Liverpool where he was taught the basics in farming. My father once referred to this school as something he envisioned a prison to be like. On the 11th of March, 1932 my father, along with a number of other young boys, left for Canada aboard the Montclare, arriving in Halifax March 19. The boys were loaded on a train destined for Toronto. Within 4 days of arriving in Canada my father found himself sitting forlornly on his trunk which contained everything he had to his name in a town called Forest. He had been the last boy left on the train and found himself alone and lonely as well as scared.
After several hours a horse and buggy showed up containing Albin Hodgson and his son Clarence. My father spent the remaining teenage years working for … the Hodgsons, becoming familiar with fruit farming as well as caring for sheep, cattle, and horses. In 1941 my father was able to come up with a down payment on a farm of his own through money saved in a fund by the Barnardo agency from a yearly wage paid … for the services of a hired man from which were deducted expenses such as clothing. My father, with help from Hodgsons, learned how to run a farm.
My father had met the storekeeper's daughter in Ravenswood and they were married in 1944. The early years of their marriage were filled with many hardships but with sheer determination and hard work the farm started to become successful. My father always said that it was his upbringing while living with Grandma Dunnett, the homes, and the Hodgsons that taught him that
hard work was the route to success. The Barnardo organization afforded him the opportunity to start fresh in a new country, leaving behind memories rarely talked about.
HOME CHILDREN (Les Petits Immigrés Anglais): Between 1869 and 1939, about 100,000 child immigrants, casualties of unemployment and poverty in Britain, were uprooted from their home and families. With hopes of giving them new lives in Canada, British agencies sent children to receiving homes like this one [Annie Macpherson]. From there, a few of the younger children were adopted into Canadian families, but most were apprenticed as agricultural labourers or domestic servants. Often deprived of education and the comforts of family life, Home Children suffered loneliness and prejudice. Their experiences reveal a poignant chapter in Canadian immigration history. Historic Sites and Monuments Board of Canada.
The saga of Home children is a part of Canadian history that has gone unreported for a long time. Many of the stories of Home children will never be told, because these children never told their families about their childhood, keeping their unhappiness, the abuse they suffered and/or the shame they felt a secret. Even those who experienced happier times were hesitant for many years to admit they were Home Children, because of the stigma attached to the term. Probably the plaque on the Annie Macpherson home in Stratford (51 Avon St.) summarizes their story best.
---
---
SOURCES
These links were used at the time of publishing in 2008. Some links may have changed or may no longer be active.
Evelyn Arnold, family profile.
Gail H. Corbett, Barnardo Children in Canada, Woodland Publishing, 1981.
Bruce Falconer, unpublished document, 2008.
Berniece Harris, family profile.
Cy Hewitt, interview by Mary & Paul Janes, 2006.
Cy Hewitt, unpublished document, 2006
Agnes Karr, Women's Institute Tweedsmuir History, Book 6, p. 49.
Lew McGregor, memoirs.
Debra Hughes Rose, unpublished document, January 2005.
Arnold Watson interviews by Gwen Watson 2007.
Dave Wilson, family profile
http://www.quarrierscanadianfamily.com/home.html accessed June 1, 2005.