Ask a Curator Day September 15, 2021
Did you miss Ask A Curator Day on September 15, 2021? #AskACuratorDay started in 2010 and it is an opportunity for the public to engage directly with curators across the globe and get their burning questions answered.
Lambton County Museums participated through our Facebook and Instagram accounts, with both Dana Thorne and Erin Dee-Richard answering questions on behalf of Lambton Heritage Museum and the Oil Museum of Canada.
Q1: What part of your job has surprised you?
A: Dana Thorne, Curator/Supervisor, Lambton Heritage Museum: When I started my career, I was blown away at the willingness of our local residents to support our facility. At Lambton Heritage Museum, our mission is to tell the stories of Lambton County through the preservation and presentation of artifacts, culture, and local history. The support from our community through artifact donations, as well as the willingness of residents to share those stories and memories, is such a treat. It is always encouraging to see that support and get to know the members of our community that are connected to our history.
As I move forward in my career, I am also saddened to lose some of the older members of our community who pass away. These seniors have so much to share and I only hope we can capture their memories before it's too late.
Q2: We were asked about the management of the museum.
A: Erin Dee-Richard, Curator/Supervisor, Oil Museum of Canada: The Oil Museum of Canada, National Historic Site is owned and operated by the County of Lambton. We make up part of the Cultural Services Division which included the Lambton County Archives, Lambton Heritage Museum, Judith and Norman Alix Art Gallery, and the 25 library locations across the county. We are a non-profit organization that preserves the site of the first commercial oil well of North America and our collection focuses on the early oil industry and the pioneers that started this industry.
Q3: What's in a curator's bag?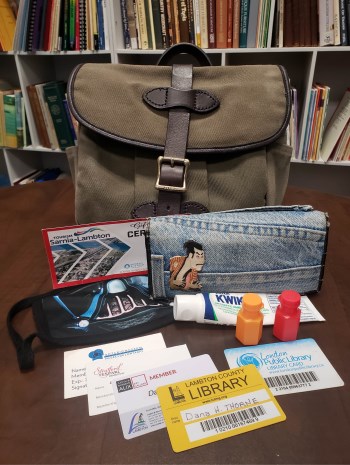 A: Dana Thorne, Curator/Supervisor, Lambton Heritage Museum: Many items in my bag relate directly to my work at the museum. This includes two small containers of bubbles my kids acquired during a visit to the museum last weekend. An artist doing a plein air demonstration as part of our Paint Ontario Art Show & Sale was giving them away.
My membership cards reflect my interest in arts and culture: Stratford Festival, Judith & Norman Alix Art Gallery, the Ontario Museum Association, and two library cards (Lambton County Libraries and London Public Library, since I work in one place and live in another). I also have a Tourism Sarnia-Lambton gift certificate that I can use to support a local business. My wallet itself reflects my love of travel and was purchased in Japan in 2019. And of course I have extra masks and hand sanitizer!
Q4: What's a surprising fact about your museum?
A: Erin Dee-Richard, Curator/Supervisor, Oil Museum of Canada: I think what people find most surprising about the Oil Museum of Canada is that we are located in Ontario. Most people associate the Canadian oil industry with Alberta, however, when visiting us they are usually surprised to learn that North America's the first commercial oil well was hand dug in Oil Springs, Ontario in 1858. Many innovations and developments came out of this pioneering industry and today's modern oil industry got its start right here in Ontario.
Q5: What's the difference between a curator and a conservator?
A: Dana Thorne, Curator/Supervisor, Lambton Heritage Museum: Curators and conservators have different roles at the museum. A conservator is a specialized position that supports the repair and preservation of artifacts. We do not have a conservator on staff, so recently Lambton Heritage Museum dropped off a beautiful but torn 1920s dress and petticoat to a textile conservator in London. This contact specializes in making sympathetic repairs to different fabrics. One interesting thing she noted was that because the petticoat was originally machine sewn, she would do her repairs on a machine, since this fits with the original design and is probably how the owner would have restored the article herself.
As a curator, I encompasses a broader role at the museum. The curator provides the vision for the museum's exhibitions and then works with a staff team to bring those visions to life. In a small museum where staff members wear many different hats, I am also responsible for ensuring artifacts are properly handled and stored, delivering lectures on topics related to the museum mandate, connecting with the community to bring in new exhibitions and programs, and supporting inquiries from the public about our local history and our museum collection.
Q6: What object would you like to add to your collection?
A: Erin Dee-Richard, Curator/Supervisor, Oil Museum of Canada: Personally, my favourite items in our collection are the snapshots and diaries made by the international drillers who got their start in Lambton County oil fields and then travelled all over the world, sharing their expertise exploring for oil. Their experiences expressed in their own words helps bring to life the souvenirs they collected while abroad and now live within the museum. I would love our collection to have more missives and photographs created by these international drillers and their loved one.
Q7: What's the coolest piece in your collection?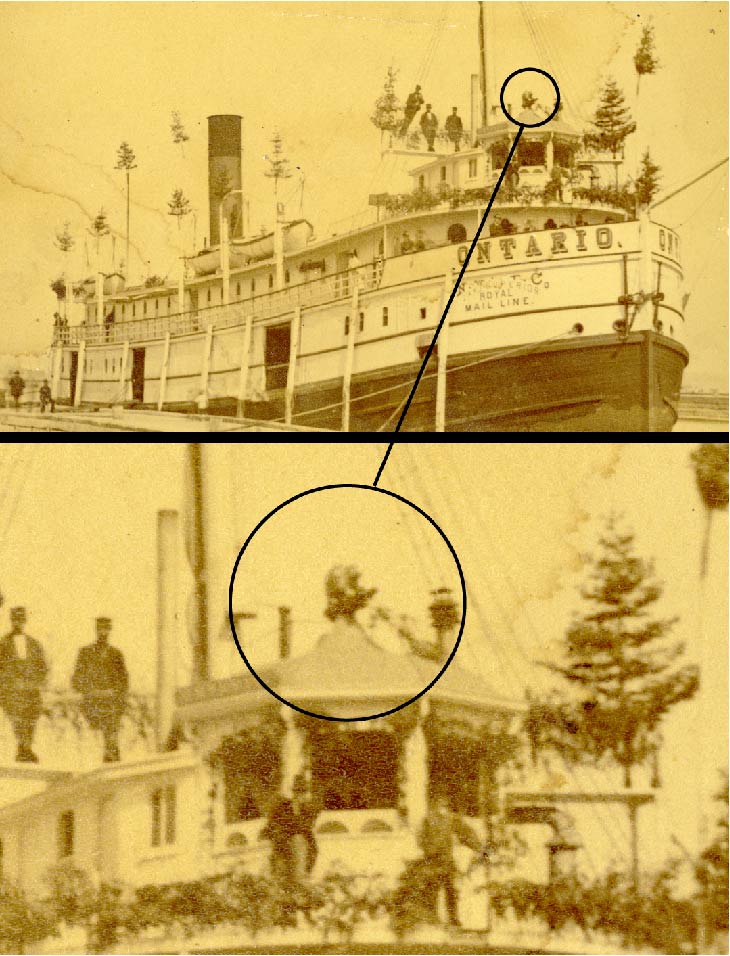 A: Dana Thorne, Curator/Supervisor, Lambton Heritage Museum: We have so many cool pieces in our collection that it's hard to pick just one! I'm going to highlight a very Canadian item linked to the Great Lakes.
Lambton County's history is deeply connected to Lake Huron and the vessels that travel the lakes. Some of those ships had very unique decorations. The S.S. Ontario had an amazing wooden beaver masthead that the museum acquired in 1987.
The Ontario was constructed by the J&H Beatty Company that operated Sarnia Beatty Line. They were one of the pioneer navigation firms of the upper Great Lakes, established in Sarnia in 1870. The firm grew to a fleet of six ships within a few years.