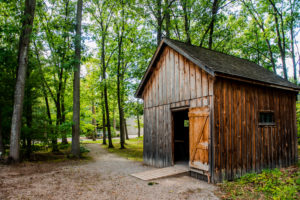 Springvale Beef Ring Slaughterhouse
In Ontario at the turn of the century, families joined together in co-operative groups to oversee the slaughtering and distribution of fresh meat. The Springvale Beef-Ring Association formed in 1911 near Thedford. This slaughterhouse was built in 1917 by the association's third butcher, John Watson. The Springvale Beef-Ring ceased operation in 1956 and moved to the museum in 1978.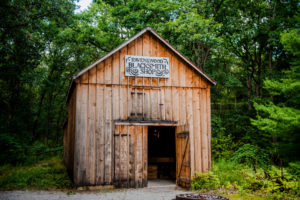 Ravenswood Blacksmith Shop
This building was built in the late 19th century. The front section was the Palmer Carriage Shop until 1920. Then, it was used as a farm blacksmith shop on the Williamson farm at Ravenswood. The carpenter and wheelwright section at the rear was a general purpose building on the farm of Paul Backx. The structure moved to the museum in 1983.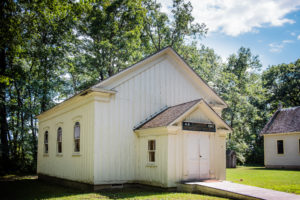 Cameron Church
On August 5, 1867, a congregation in northeast Euphemia Township decided to build a church. The land was donated and $200 was raised for its construction. The name Cameron was selected in honour of the missionary serving the congregation at the time. In 1999, after over 130 years, the Cameron Church closed. The following year, it reopened at its new home at Lambton Heritage Museum.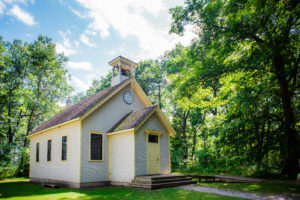 Rokeby School
S.S. No. 4 Brooke opened in September, 1899 in the crossroads community of Rokeby (between Alvinston and Watford). Over the years, the school hosted many social gatherings, including garden parties, picnics, and ball games. It was relocated to the museum in 1990 and it reopened in 1998, almost 100 years after it was built.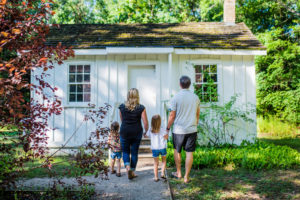 Tudhop Home
This tiny house was one of the first homes in the area. It was built near Thedford in 1857 by Daniel Tudhop for himself and his mother. In 1879, this house became part of a larger brick house. That structure was destroyed by fire almost 100 years later. In 1978, the original Tudhop home (miraculously undamaged by the fire), moved to the museum.
COMING SOON - Canatara Cabin
The Canatara Cabin is the oldest building at the museum. It held a special place in the hearts of visitors to Canatara Park for decades. Soon the cabin will be enjoyed for future generations alongside five other historic buildings currently located at the museum site.