Samuel Smith: Early Surveyor of Lambton County
A bird's eye view of Lambton County reveals an orderly grid of roads that divides the land into rectangular parcels. Two hundred years ago the same area was a vast wilderness of forest and swamp, interlaced with rivers and creeks. In 1820, Deputy-Surveyor Samuel Smith was sent by the Crown to conduct the first recorded surveying in Lambton County. Surveyors like Smith started the process of transforming the landscape into what we see today. Smith kept detailed diaries of his surveys. He used his notes to draft maps and plans of the townships he surveyed.
September 27, 1832 – "I got the men up early, took our breakfast, then travelled northerly all day in a bad black ash, elm, and soft maple swamp thick with alder brush."
Smith was born at Ancaster, Upper Canada in 1795. His parents were United Empire Loyalists who came to Canada from the United States after the Revolutionary War. Smith fought at the Battle of Queenston Heights during the War of 1812. In 1818, he became a surveyor.
Smith worked for the Canada Company and helped survey the Huron Road from Guelph to Goderich. He surveyed many of the townships in Lambton County, including Sombra (1820), Euphemia (1823 – then part of Zone), Bosanquet (1828), and Brooke (1832). Smith settled in Euphemia Township and built a mill on the Sydenham River at Smith Falls. He died in 1857.
Smith's diaries are an incredible example of a primary source document, or an original historical record that provides an immediate, first-hand account of a subject. Smith's diaries explain the details of the surveying process and describe the difficulties surveyors faced. Illness, terrain, vegetation, and wildlife could all be hazardous.
September 25, 1832 – "Samuel Crowell took sick last night with the dysentery also F. Jones. I took same complaint this morning about 3 o'clock."
October 18, 1832 – "Levi Long blind by means of some poisonous vine or herb that he got in the tamarack swamp." [Long's eyes were temporarily swollen shut but he recovered.]
November 27, 1832 – "We drove a bear out of a hollow log which was close to the line. We got him running finely."
Surveyors were responsible for laying roads, rights of way, lots, and concessions. Fieldwork was tedious and strenuous. Key items in a surveyor's tool kit were a compass, pins, and a surveyor's chain. The compass made it possible to conduct a survey along the correct lines of latitude. It was placed on a tripod and levelled with a plumb bob. Survey pins were dropped during a survey to mark the line for people following behind the leader. Cloth was tied around the pins to make them more visible and harder to lose.
The surveyor's chain, or Gunter's chain, is precisely 66 feet long. It is divided into 4 rods of 25 links each. Eighty chains equals one mile. One chain is composed of 100 links connected to each other by rings. Each link is 7.92 inches long. Tally marks every 10 links keep track of the length. The chain was sturdy enough to be dragged extensively through rough terrain. It still had to calibrated and adjusted to check that the length remained true.
December 17, 1832 – "They found some difference in chaining, 30 links across the 6 lots from the former chaining, the chain having stretched some. I then took out rings to adjust the chains as it was before."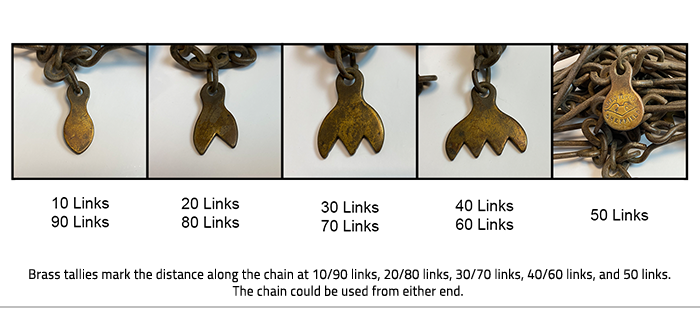 The surveyor hired a team of workers to help him get the job done. Chainbearers (one at each end of the chain) used the chain to measure distance along a straight course set by the surveyor. They were the highest paid workers. Smith employed two chainbearers to survey Brooke Township. He paid them 3 shillings 9 pence each per day.
Axemen cut paths through the wilderness and made posts and pickets (pointed stakes). These marked important sites such as the corners of lots. A picket man made sure the pickets were placed correctly. Packers travelled in and out of the survey area, by canoe or on foot, in search of provisions such as meat and grain. There was also a cook.
November 10, 1832 – "We were all very weak for want of bread as we have been out for 2 days past, but to our joy we saw the canoe about 3 o'clock p.m. coming up the river".
A township survey was a large endeavor. The survey began at a known point. All future measurements were based off of this point. It was important to clearly mark the corners of a new township. Large hardwood posts were driven into the ground at each site, sometimes surrounded by a log pen to prevent the post from falling. Patches of bark were removed from 'witness trees' in all directions around a post. The surveyor recorded their compass bearings and distance from the post as well as the species and diameter.
January 9, 1833 - "Then marched across the point of Mosa to Bear Creek [Sydenham River] also to the line between the 6th and 7th concessions and sighted over the river to a picket I had set on the west side of the river at the water's edge, and calculated the width of the river by taking a right angle triangle trigonometry which was found to be 1 chain 88 links + 23 links".
Smith and his team conducted the survey of Brooke Township from June 1832 until January 1833. Smith did not complete the project until April. He still had to transcribe his papers, field book, and diary, draft the first map of the township, and submit the finished materials to the Surveyor-General's office.