Jacob 'Jake' Lewis Englehart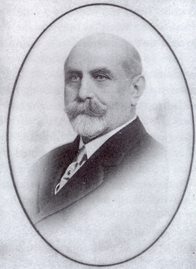 Jacob "Jake" Lewis Englehart
Instrumental in providing Petrolia's hospital
Jake Englehart was born in Cleveland, Ohio, on November 2, 1847. He left Cleveland in 1860, at the age of 13, and went to New York where he found employment in the offices of Sonnborn, Drafoo & Company. Englehart came to Ontario in 1870 to investigate the oil fields. While retaining his New York connections, he founded the firm of J. L. Englehart & Company at London. This company bought crude oil from small producers, refined it, and then shipped the product to New York and overseas. After six years, Jake sold this company to the London Oil Refining Company.
Englehart moved to Petrolia in the late 1870s and built the Silver Star refinery on the site of the old Carbon Oil Works, after convincing the town to waive his taxes for five years. Within a year, after modernizing and repairs, the refinery was worth over a quarter of a million dollars, and it was one of the largest refineries in Canada.
The Americans, especially John D. Rockefeller and his Standard Oil Company, were having an impact on Canada's oil market. Within three years, American products had taken away much of Canada's European market.
Englehart, and sixteen oil men from London, Ontario formed the Imperial Oil Company Limited on September 8, 1880. They formed this company in response to this threat from Standard Oil. In just a few years, Imperial Oil would have twenty-three branch offices, from Victoria to Halifax, and the business would be booming. This expansion was instrumental in helping to open Western Canada.
Unfortunately, they were unable to keep Rockefeller at bay, and in 1898 Standard Oil gained controlling interest in Imperial Oil. Imperial Oil received the capital it needed to expand to meet Canada's increasing needs. Standard Oil retained Englehart, but he lost much of his power in this takeover.
In 1897 Standard Oil bought the Dominion of Canada Oil Refinery Company Limited, located in Sarnia, Ontario. It soon moved Imperial Oil's head office to Sarnia, and built a pipeline to Lambton. This was a terrible blow to the economy of Petrolia, and it would mark the beginning of the end of the Petrolia oil boom.

In 1882, Englehart would join with John Henry Fairbank to create the Crown Savings and Loan, and by the end of the 1890s, he would begin the construction of his famous home, Glenview, in Petrolia. Englehart finally married in 1891, at the age of 44. He married 28-year-old Charlotte Eleanor Thompson, who would become instrumental in providing Petrolia with its beautiful hospital.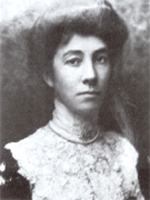 Charlotte Eleanor (Thompson) Englehart
Englehart's next career began in 1906, when he became the Chairman of the Temiskaming and Northern Ontario Railway, which was preparing to push 400 miles of track north, through the wilderness. The news that the Engleharts were leaving Petrolia was met with much speculation. Men who had worked with him in the oil business, felt his change in occupation, especially to a railroad endeavor, as a kind of betrayal. Hard Oilers had no love for railroads, having experienced problems with high tariffs. They had tried for years to bypass the railroads, and for one of "their own" to change sides, left many feeling confused.
Jake Englehart returned often to Petrolia to visit, but his new job demanded much of his time. By 1907, his railroad was rapidly heading north from New Liskeard, and he was happy.
Glenview, home of the Engleharts
His happiness was to be short-lived as it was in this same year that Charlotte became ill with tuberculosis. In the spring of 1908 she became pregnant, but on New Year's Eve, 1908, Charlotte died of complications due to her pregnancy. She was buried in Petrolia. She was 45 years old.

After Christmas, 1911, Jake Englehart honored Charlotte's wish and gave Glenview to the town to be used as a hospital.
Englehart officially opened the thirteen-bed hospital in the summer of 1912. He would later finance the addition of an operating room and a nurses' residence. Englehart "equipped the maternity ward personally, and provided in his will for the purchase of x-ray equipment. He endowed the hospital with four hundred shares of Imperial Oil stock and thus ensured its independence and financial security for all time". (Rivers of Oil p.168) The hospital still exists today and is christened the "Charlotte Eleanor Englehart Hospital" or C.E.E.
Englehart moved to Toronto after giving Glenview to the town. He resigned from the railroad in 1919 and retired to the Queen's Hotel in Toronto. He died of a brain hemorrhage in April of 1921, while writing a letter to a friend. He was seventy-four years old.
"With Englehart's death, the final chapter closed on the history of the early petroleum days". ( Hope Morritt, Rivers of Oil, p. 175)