From carriage maker to member of the Ontario Legislature

James Miller Williams
James Williams' story is a tale of success. Williams was already the owner of a successful carriage making business in Hamilton when he learned of Charles Tripp's discovery of asphalt. He decided to travel to the same "gum beds" that had attracted Tripps years before, but where he had failed, Williams would be successful.
Williams was born in Camden, New Jersey in 1818, to Welsh parents. Three weeks before he was born, his brother, Roland died and was buried in Camden. His sister, Elizabeth, was born when James was 15 years old. He left New Jersey at the age of 22 and moved to London, Ontario. There is no mention of Williams' parents moving with him, but apparently he traveled to London with his then seven-year-old sister, and a 43-year-old servant, named Jane M. Vandroll, as well as the skeleton of his infant brother! Shortly after his arrival in London, Williams went into business with a carriage maker named M. Holmes, whom he soon bought out.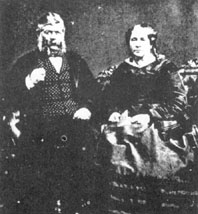 James and Mellinda Williams
Six years later, in 1846, the Williams family, which now included his wife, Melinda, moved to Hamilton, Ontario where he joined his carriage operation with Henry G. Cooper's established Hamilton Coach Factory. The company was renamed Williams and Cooper Carriage Factory one year later, and this partnership was successful for close to a decade. Williams was to be the owner of many businesses during his lifetime, as well as a popular alderman during the mid-1850s, serving twice on the Hamilton Council. It was here, in Hamilton, that James finally laid the body of his little brother to rest , in their family plot.
After his meeting with Charles Nelson Tripp, Williams was intrigued and decided to try his luck producing lighting oil. He hired Tripp and set out for the gum beds of Enniskillen Township. As one of a group of Hamilton businessmen who had purchased some of Charles Tripp's oil lands, Williams was shrewd enough to recognize the possibilities that his oil beds provided. He discontinued his carriage business in 1856 and became a manufacturer of refined illuminating oil. It was in 1858, when Williams was only 39 years old, that he struck oil! He was digging for water for his work crew, when he discovered a black, smelly substance. His well was to become known as the first commercially successful oil well in North America.
By 1859, Williams owned 800 acres of land around Oil Springs, Ontario. He continued to drill more wells and became the president of an oil company that did business in North America and abroad. It was first known as J.M. Williams Company, and later as the Canadian Oil Company. James received two bronze medals in England; one for being the "Father of the Oil Industry" and the second for having the best refined oil in North America.
Part of James' success was due to the fact that the London-to-Sarnia branch of the Great Western Railway opened in the same year that he struck oil. If only Charles Tripp had been so lucky! Williams was one of four men who, with John Shaw, laid out the village of Oil Springs in 1860. James returned to Hamilton to set up his refinery.
By 1880, James had disposed of his oil properties and interests, although he continued to be a director of several insurance and railway companies. James Miller Williams sat for Hamilton in the Ontario Legislature from 1867-1879, and was County Registrar for Wentworth from 1879-1890.

Williams was a true entrepreneur whose vision and hard work credited him with many "firsts" in his life. Williams died in 1890, at his Mapleside mansion, in Hamilton. He died a very wealthy man and a "true pioneer of Canadian oil". (Gary May, Hard Oiler! p. 37)