William Henry McGarvey
One of the world's greatest petroleum technologists.
William McGarvey was born in Huntington, Quebec in 1843. His family moved to Wyoming, Ontario when William was 12 years of age, and just before James Miller Williams struck oil in nearby Oil Springs. William McGarvey proved early that he had a head for business, setting out in the 1860s to open his own business, The Mammoth Store, in Petrolia, Ontario.
Petrolia was incorporated as a village in 1867, and McGarvey was chosen to be the first reeve at 24 years old, although he resigned shortly thereafter. McGarvey met Helena Jane Weslowski, who was originally from Mount Clemens, Michigan, and they were married on July 10, 1867. Within a year of their marriage, the couple had eighteen producing oil wells aside from The Mammoth Store. The most famous well that the McGarvey's had an interest in was the Deluge. William and Helena had three children, Nellie (Kate), born 1869; Fred, born 1873; and Mamie Helena (May), born 1876. In 1875, when Petrolia became a Town, McGarvey was asked to be the mayor. William served as either the mayor or reeve of Petrolia until the end of 1879
Exploring Europe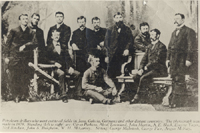 The British engineer, John Simeon Bergheim, arrived in Petrolia in the 1880s, looking for men willing to drill in Europe. McGarvey and Bergheim soon became close friends, as well as business partners. Together, they embarked for Oelheim, Germany in search of oil.
After almost a year, McGarvey and Bergheim were still unsuccessful in finding oil in Germany, so they decided to travel further east to what was then known as the Austro-Hungarian Monarchy Galicia, one of the provinces in this Monarchy. They decided that they needed new drilling methods to tap into Galicia's resources, so they brought in some Petrolians, known then as worldwide experts in the pole-tool drilling method. It was these "Hard Oilers" who succeeded in bringing in McGarvey's first big well, as well as constructing and operating the first Bergheim & McGarvey refinery at Maryinpol, Galicia.
After hearing of his successes, many other Petrolians joined McGarvey in Europe. In 1882 William sent for his wife and children to live with him in Austria. Soon the McGarveys would own a residence in Vienna, as well as a castle in Galicia, and their children would attend the best schools in Germany and Austria.
Business expanded quickly and on November 13, 1885, Bergheim & McGarvey advertised in Petrolia for more rig builders and drillers. McGarvey sent his brother Albert to recruit new workers. Moreover, McGarvey's daughter Mamie, married Count Ebert von Zepplin of Austria, on November 12, 1895. McGarvey now had ties to royalty.
He had become so wealthy that his wedding gift to his daughter was a seven-hundred-acre estate and castle, valued at close to $70,000. This would be equivalent to almost $1 million dollars today! McGarvey came to be known as one of the world's greatest petroleum technologists. At one point he was honoured at a special ceremony, by the Austrian Emperor Franz Joseph, for introducing the Canadian drilling system to Galicia.
Trouble was brewing in Europe and early in 1911 McGarvey received news that his younger brother James, had been brutally murdered. Armed robbers, carrying short Cossack swords, had broken into his home while he was having dinner. They murdered James, his servant, a friend named Talbot Barnard, and a guard. Barnard managed to carry Mrs. James McGarvey to safety before he himself was murdered. Mrs. McGarvey was taken to hospital in Vladikavka, which was nearby, and then home to Britain to be with her daughter.
The War
Although heartbroken by his brother's death, McGarvey was excited by the invention of the internal combustion engine and the horseless carriage. He knew that these inventions would require fuel, something he was processing at close to two million tons a year. McGarvey's future looked very promising. Great Britain was interested in converting its navy ships from coal to oil. He was called upon by Winston Churchill, First Lord of the British Admiralty, to consult with British Navy officials on the feasibility of converting their ships to oil. After hearing from McGarvey, England redesigned four battleships to use oil as early as 1913. Some say that McGarvey was the man responsible for Britain's victory during the war.
His Demise
The demand for oil lessened with Thomas Edison's new invention, the incandescent electric light bulb. The years before the First World War were still very profitable for McGarvey, but once the war broke out, his fortune suffered. His European refineries were blown to pieces, and his oil fields set on fire. Many of the Canadian workers who did not leave at the start of the war were shot or taken prisoner. "By the time November [1914] rolled around, McGarvey was like a dying monarch, his crown toppling, his kingdom in ruins." (Hope Morritt, Rivers of Oil, p.172).
"At the end of his life, McGarvey had become a tragic figure, watching helplessly as his great company neared the brink of ruin, crushed between two warring armies." (Gary May, Hard Oiler!, p. 135). McGarvey was now watched with suspicion and no longer trusted by the Austrian authorities. He had a stroke and died on his 71st birthday, a heartbroken man. He was buried in Vienna.